20 Signs of Toxic Marriage & How to deal with It
Is my marriage toxic? How to know your relationship is toxic?
If you have been asking these questions lately, the chances are that it is indeed toxic.
Wondering the signs of a toxic marriage or how to deal with a toxic spouse will get you nowhere.
Ending toxic relationships and letting go of toxic people is never easy, but you need to take a hard look at the signs your marriage is in trouble and take adequate action to mend it or walk out of it.
There will be times when you doubt your relationship, wondering if the person you are with is actually 'the one' for you. You may often find yourself questioning your decision to stay with them over and over again.
If that is the case, your relationship might be toxic for you. It is not suitable for us to be in a relationship with no love.
There is no point in continuing it when you see no future together.
A toxic marriage can affect one's mental and emotional health greatly. People in poor relationships often suffer from anxiety, depression, low self-esteem and are susceptible to illnesses.
Sometimes they have no idea what a toxic and unhealthy relationship is, even as they are bearing its brunt. Therefore, you must be fully aware of what's good for you and what's not.
Also Try: 

Are You In A Toxic Relationship Quiz?
What is a toxic marriage?
A toxic marriage is where both or one of the partners causes unhealthy mental, physical, and emotional issues. These issues turn into big problems and take out the spark of the relationship.
Sometimes a toxic marriage can look like a happier one, but there will be subtle signs that you can ignore for a while but will have to acknowledge. The most evident signs of a toxic marriage are physical abuse, substance abuse, adultery, and desertion.
A toxic marriage can turn you into a bitter person and seriously harm your mental health. It can make you feel sad, hopeless, and pessimistic all the time.
Related Reading: 

Physical Abuse And Emotional Abuse- How Are They Different?
Watch this informational video about healthy and unhealthy love:
20 signs of a toxic marriage
Living in a toxic marriage may remove all happiness from your life, deteriorate your mental health and well-being, push you into a constant feeling of self-doubt and shame, and even lead you to suicidal thoughts.
If you already feel these things or notice any of the below-mentioned warning signs of a toxic relationship, you need to dissolve the relationship.
1. Lack of communication
Talking to one another is considered a great way to remove misunderstandings and develop a bond between two people.
Similarly, couples usually opt for talking it out when having issues in their married life. If there are times when neither of you wishes to speak to each other, this is a clear indication that something is not correct.
Moreover, despite being in the same room, both of you are busy doing your own thing rather than spending quality time with each other displays a lack of connection.
Similarly, physical affection is said to be what distinguishes marriage from friendship. If your relationship lacks physical intimacy, a big red flag is waiting to be noticed.
Related Reading: 

3 Detrimental Effects of Lack of Communication in Marriage
2. Jealousy
If your partner is constantly texting you and wants to know where you go and who you hang out with, this shows their insecurity and need to control you. It's not common knowledge for the sake of it. Multiple studies back this up too.
A jealous spouse requires constant updates and limits you, taking away your freedom.
Related Reading: 

Jealousy in Marriage: Causes and Concerns
3. Stalking your phone
They may even monitor what their spouse does on their phone or computer and may feel jealous of seeing them talk to others, particularly the opposite sex.
Having no trust in a relationship is a clear sign that your marriage is falling apart, and there may be nothing worth left to hold on to.
3. Threats and blame games
Wondering, 'am I in a toxic relationship?'
When a relationship is toxic, you may find your partner often threatening you to manipulate you by hurting themselves and blaming you as the reason for their pain.
How much a person blames their partner depends on their perception, and it also decides how much they let it affect their marriage.
Related Reading: 

How to Stop the Blame Game in Your Relationship
4. Fights and arguments
Couples tend to learn more about each other over the years and develop a better understanding that helps them minimize marital conflicts and enhance love and support between them.
Even after all these years, if spouses are constantly fighting, possibly over the same reasons, there might be a big chance they have lost the love they once held.
5. Feeling like you are walking on eggshells
Suppose you are living in a toxic marriage. In that case, you will eventually find yourself to be always in a constant state of anxiety and afraid to do anything that you feel may offend or disappoint your partner.
This is entirely due to the fear of being criticized or yelled at. If you feel like 'walking on eggshells, ' which means always being careful about trivial matters, this is a massive sign that you are unhappy in this marriage.
Such feelings of anxiety ultimately lead you to think about how to leave a toxic marriage, and you should act on it as soon as possible rather than suffer in silence.
6. You're depressed
If you think that you are constantly drained out of positive energy and feel sad all the time, you should think about getting out of your toxic relationship.
Depression is the biggest sign of a toxic marriage. If your relationship keeps you dull, you should start doing something about it.
7. You constantly feel exhausted
You are always tired and not up for anything. It seems as if someone sucked the joy out of your life. You feel disconnected from everything because you have no energy left in you.
If all this sounds familiar, it's time to analyze and think about how to leave a toxic relationship.
Related Reading: 

10 Signs of Emotional Exhaustion and Burnout in Marriage
8. You overcompensate by talking about how great your relationship is
You constantly need to assure yourself that your relationship is fine. You find yourself constantly talking about how amazing your relationship is when the reality is far from it.
It's a big sign that you are in a toxic marriage.
9. Your friends see and say things you don't
If people around you have warned you or told you about being abused, you choose to ignore them. You don't want to admit that in front of them or to yourself because you know in your heart it is true.
10. You hide your social life
You maintain a separate social life as you fear that people might know things aren't great.
You also avoid talking about your partner with friends and loved ones. If they do, you become offensive and refuse to share the details.
11. You have thoughts of cheating
You are constantly worried that your partner may or may not cheat on you. Sometimes when you believe that you will be cheated on, you think of cheating back. It's toxic behavior.
12. You are always defending
You have the burden of constantly defending everything in your life. You are not sure how anything out of your life looks on the outside, and it has pushed you towards toxic behavior.
Your defending has become a self-survival means.
Related Reading: 

What Is a Toxic Relationship and Major Types of Toxic Partners
13. You don't depend on your partner for emotional support
You try to find emotional support in everyone other than your partner. It is not a sign of a healthy marriage when you do not seek emotional support from your partner.
14. Your spouse is distant when you're trying to communicate
Not paying attention to your partner is a sign of disrespect in a relationship. When you try to communicate with your partner, they always seem busy or not interested.
When you try to confront them, they use the cliched toxic things partners say, such as – you are reading too much into it, you're overthinking, I am exhausted from work pressure, etc.
Related Reading: 

How to Communicate With Your Spouse When Things Are Tough
15. You become the scapegoat
Your partner always blames you for everything that goes wrong in your relationship. Even for their faults, they blame you and make you feel guilty about it.
16. Your partner is lying about finances
Hiding money from your partner is like putting a nail in the coffin. If your partner is hiding money or going on a spending spree, you should know something is wrong in your relationship.
17. You spend more time with your children than with your partner
You are not interested in alone time with your partner, and you like to spend most of your free time with your children as it makes you happier.
It is one of the apparent signs of a toxic relationship.
18. You're feeling a lack of control
Your partner controls everything that happens around you and in your life, and you have been feeling suffocated. You should consider rethinking your relationship, indicating that your partner is a marriage bully.
19. You don't discuss decisions before making them
Both or one of you has started imagining your life as an individual rather than a couple. You don't think of the other person before making a major decision.
This type of approach can destroy a relationship, and you should think if you have been living with a toxic wife or husband in marriage.
20. Stupid fights become big fights
Your relationship has become so toxic that every communication turns into a stupid argument, and every stupid argument becomes a stupid fight.
If you both can't have a conversation without turning it into a fight, you should think about how to leave a toxic marriage and move on.
Can a toxic marriage be saved?
Being able to voice your perspective and being all ears to your partner's opinion is a great way to resolve issues.
However, if neither of you wishes to talk things out, you lack healthy communication, and that will lead your relationship to shambles.
There are many pleasant ways to let your partner know if you are not pleased about something or the way they dress instead of bashing and insulting them.
It is not okay if your spouse humiliates and insults you by making mean jokes and judging negatively, showing that they do not respect you anymore.
Similarly, a partner who refuses to acknowledge your strengths and belittle your accomplishments is not worth staying with. These are signs of a toxic marriage, and it is useless trying to salvage it.
Related Reading: 

Toxic Relationships: How to Heal the Hurt?
How to save a toxic marriage
A toxic marriage is harmful, but all is not lost there. You can save a toxic marriage with consistent efforts.
First, you have to analyze if your marriage is worth saving or not. Once you have decided to fix a toxic marriage, know that it isn't going to be easy and it requires a lot of struggle and commitment.
Here is an article that shares details on saving a toxic marriage.
10 tips to deal with toxic marriage
If you are worried about how to deal with a toxic spouse or toxic marriage, here are some tips that will help you.
1. Accept
Acceptance is the best approach to deal with a toxic marriage. You have to accept what is wrong and then work on the problems, one at a time.
2. Avoid the negative energies
There may be times when you or your partner have exchanged bitter words but do not take them to your heart. Please avoid any negative thoughts or energy if you want to reverse the damage.
3. Stand up for yourself
Next time your partner accuses you of something you haven't done, please stand up for yourself and make them understand that they can't blame their shortcomings on you constantly.
Try to make them understand with examples of such incidents in the recent past or any other proof.
4. Avoid anger as much as you can
Anger cannot resolve problems, and if you are trying to fix your toxic marriage, you might want to use your calm and focus on the bigger picture rather than being angry and making rash decisions.
Related Reading: 

How Do You Let Go of Anger and Resentment in a Relationship?
5. Be kind to yourself and your partner
Practice forgiveness for yourself and your partner. When you forgive, you feel like a burden has been lifted from your chest. Give your heart that space to feel good.
6. Invest in yourself
Build yourself, invest yourself. Make yourself productive and improve your mental health. You have to start within if you want everything to be good around.
You both should work on yourself and your relationship together.
7. Take responsibility for your actions
Own up to your past mistakes and take complete responsibility for them. Accept them and work on never repeating them, as they can harm your relationship in the future.
8. Let the past rest
Leave your past behind and let it be a new beginning. You both have made mistakes and done things you are not proud of. If you want to mend your relationship, leave every sour memory behind and build a new future with better ones.
9. Be compassionate towards your partner
Have compassion in your heart towards your partner. Treat them as you would want them to treat you. Being toxic is easy, but it takes courage and compassion to be better or work towards it.
10. Couples therapy can help
If you think your relationship needs a little more help than usual, you should go for couples therapy. A professional can help you figure out the problem areas and how to work on them.
Related Reading: 

9 Best Couples Therapy Techniques to Try in 2022
How to heal after your toxic marriage has ended
Leaving a relationship, even an unhealthy one, can be painful and heartbreaking. While it can give you a sense of freedom, it can also crush your spirit to be happy. Here are some ways you can try to heal after the end of a toxic marriage.
Allow yourself to feel every emotion. Feel everything you need to feel as it can help you get over it swiftly.

Give yourself time and space to process your feelings.

Do not try to keep in contact with your ex. It can impact your mental health badly. If children are involved, develop helpful strategies with minimum contact for co-parenting.

Do not hope for closure, apology, or any other assurance from ex. The worst is over, and you should not look back.

Surround yourself with positive people. Spend time with people who make you feel good and support you.

Don't be afraid to tell people what you have been through. Write about your pain. Share it if you feel comfortable. Be willing to open up about it.

Rebuild yourself from scratch. You have a second chance, learn from your mistakes, and be better.

Practice self-love

and care.
Never be hard on yourself or blame yourself for your failed marriage. It may seem the worst, but it will get better eventually.
Conclusion
Nobody deserves to stay bound in a toxic marriage.
The thought of breaking a relationship you have invested in is scary due to the fear of being alone. Also, the premise of an unknown future makes understanding when to leave a marriage a challenging task.
However, none of us deserve to 'settle for it' and need to leave such a marriage as soon as possible because nothing is greater than one's emotional health and happiness.
Share this article on
Want to have a happier, healthier marriage?
If you feel disconnected or frustrated about the state of your marriage but want to avoid separation and/or divorce, the marriage.com course meant for married couples is an excellent resource to help you overcome the most challenging aspects of being married.
More On This Topic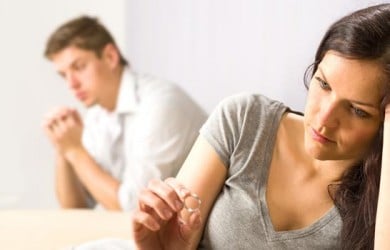 You May Also Like