How to Not Be a Doormat: 10 Useful Tips
Do you tend to give in to your partner? You can feel like a doormat when they take advantage of your generosity and kindness. Realizing that you don't have to constantly please your partner for them to respect and love you is crucial.
Continue reading to understand better how to not be a doormat.
What does being a doormat mean when in a relationship?
A doormat partner is someone who tolerates terrible treatment from their partner. They don't communicate their needs and stand up for themselves. A doormat in a relationship is often taken for granted or expected to agree with whatever their partner says or wants to do.
Learning how to not be a doormat becomes essential as it saves you from being taken for granted and open to emotional abuse.
What makes someone a doormat?
Weak personal boundaries are likely to present in a doormat relationship. That means the other partner is badly treated because they don't know how to say "no," or give in to bad behavior. Other people might take advantage of their partner's low self-esteem to make them do what they want.
What are the reasons to be treated like a doormat?
Some people enjoy being nice to others because they enjoy being liked. But, if they don't protect themselves, others will take advantage of this.
Some might think that being friendly means doing favors for others. Setting boundaries is essential to stop being treated like a doormat.
Another possible reason is a bad childhood. Those who experience abuse might find good treatment when they please others. Surprisingly, a happy childhood can also be a factor in being a doormat.
People who have had a happy childhood might be naive about the outside world. So, they cannot protect themselves from people who would take advantage of them.
There's also a possibility of having a fear of being alone, so doormat people will try to do favors. Having low self-esteem is one of the characteristics of a doormat. Focusing on their flaws, they might prioritize the needs of others rather than their own for approval.
5 signs you might be a doormat
You may think that you are being nice to others, but in reality, you could be a doormat without realizing it. Here are some key signs of being a doormat that you should look out for:
1. You always accept people
When your family, friend, partner, or anyone you know asks a favor from you, it's tough for you to say "no."
You likely say yes to people only because you're naturally helpful but also because they don't hear or have the chance to consider your reasons on why you need to deny their request. It's alright to help others but doing this shouldn't sacrifice your peace of mind.
2. You are taken for granted
If people ask you to do the same favor every day, this is one of the signs you are a doormat. That's because these favors become tasks for you.
You might not be aware of it, but they're taking advantage of your kindness. When people need something, they may depend on you to do it, even if it's as simple as buying coffee. One way how to not be a doormat is to set boundaries on what favors you'll agree to.
3. People only reach out to you when they need you
This is one of the most obvious and strongest indications that you're used as a doormat.
You can notice that others only contact you when they have a favor to ask or you have the solution to their problem. You need to know how to distinguish these kinds of people and eliminate them from your life.
4. You're never appreciated
It's natural to expect someone to thank you if you do something for them because of care and love. They may express how grateful they are or return the favor. One sign that people use you is that they don't do these and keep asking for more favors.
People may take advantage of your kindness. Sadly, people can be heartless. You can stop being a doormat by not welcoming people who don't know how to welcome you.
Related Reading: 

10 Things to Do if You Feel Unappreciated in a Relationship
5. Lack of reciprocity
You feel bad when gratitude isn't shown after giving your time to help others. That's because you help, but there's no one to help you when you need it.
You can see if people are worthy in your life if they are there during the good and the bad. Those who take you for granted will only be there during the good times.
10 tips on how to stop being a doormat
It can be hard to figure out how to not be a doormat while still being nice to others. You may hesitate because you don't want to appear hostile or unwelcoming. But there are polite ways to deny the requests and demands of others respectfully.
Try out the tips mentioned here to protect yourself and not be a doormat.
1. Work on your self-worth
If you respect yourself, other people will respect you. According to research, being assertive is positively connected to self-worth. It helps you avoid being mistreated and handling the situation effectively when someone mistreats you.
2. Figure out what a healthy relationship is
You can find it beneficial to learn what healthy relationships, friends, and family are. You may have the wrong You can create boundaries when you can differentiate between a good and bad relationship.
Related Reading: 

20 Benefits of Healthy Relationships
3. Consider your boundaries
Boundaries are like the line of defense in relationships. You can decide if something is or isn't tolerable by other people. When you have firm personal boundaries, there is a lower chance that people will use you.
Depending on the situation, boundaries can change. The most important thing is that you can clearly express your boundaries so that change will be acceptable.
For instance, when your partner asks you to do something that you're not used to, you can ask yourself if this goes beyond your set boundaries.
Related Reading: 

10 Personal Boundaries You Need in Your Relationship
4. Learn how to say "no"
It's important to learn how to say "no" to maintain your boundaries. Although you don't have to explain yourself when you say it, it can feel very awkward if you don't say anything else.
It's alright to explain, but you don't need to be thorough. When giving an excuse, it doesn't end the conversation because the other person might have a response for it. You can set your boundary in this situation by giving a polite, brief, and final answer.
Watch this video to learn how saying no can make you a better person:
5. Offer other solutions
You can provide suggestions if you want to help out but can't do it. You need to make sure that your suggestion won't cause disturbance or annoyance to others.
6. Be straight when asking for better treatment
After learning how to say "no" to unreasonable requests, the next thing you can practice next is how to tell someone to change when they don't treat you right. When you want someone to treat you better, you can directly tell them how you feel, when you felt that way, and what change you would like to see.
7. Express consequences clearly
If you give someone a chance and continue to act the same way after asking them for better treatment, you need to choose whether you stay in the relationship and forgive them or leave.
It can help to say the consequences clearly if you don't want to give them another chance. You have to remember only to do this if you can stick to it. If not, your partner will likely realize they don't need to take your word seriously.
8. Communicate assertively and nonverbally
You can look and feel more confident when you show assertiveness in your body language. To do this, you should avoid fidgeting.
You also have to stand or sit with the proper posture, keep eye contact, avoid grinning or frowning, keep a reasonable distance away from your pattern, and don't point.
Related Reading: 

What Is an Assertive Communication Style? (With Examples)
9. Prepare for pushback
It would help if you prepared yourself for resistance when you open up about the boundaries you've set in the relationship. Your partner might get surprised or annoyed that you have started becoming less agreeable if they're used to you agreeing all the time or saying "yes."
You have to stay consistent. Most people learn to adjust in time. If you feel you might be in danger when discussing boundaries, you need to prioritize your safety above all.
10. Understand that you don't need to save the relationship
Inevitably, romantic relationships and other kinds of relationships don't succeed. Most people don't marry their first love. Also, not all friends have lasting relationships.
You need to keep in mind not to become a doormat person to keep your relationship. It's best to end the relationship if you're ignored or mistreated. You better concentrate on building relationships with people who have the same values and interests as you.
Related Reading: 

How to Know When to Let Go of a Relationship: 15 Signs
Conclusion
Finally, you know some of the ways how to not be a doormat. By better understanding what being a doormat is and how to stop being a doormat to a man, you can prevent your partner and other people from walking all over you and taking advantage of you.
You can also better deal with being a doormat by going through counseling.
Share this article on
Want to have a happier, healthier marriage?
If you feel disconnected or frustrated about the state of your marriage but want to avoid separation and/or divorce, the marriage.com course meant for married couples is an excellent resource to help you overcome the most challenging aspects of being married.
More On This Topic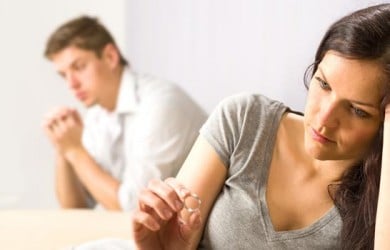 You May Also Like