Relationship Burnout: Signs, Causes and Ways to Cope
When a relationship starts, the excitement and energy between the couple are usually intense. Both parties would want to outdo each other regarding love and affection.
However, the relationship could begin to experience a downward toll where the partners might be tired of each other and the union in general.
In this post, you will learn what relationship burnout means and how to recognize the signs. Also, you will know the possible causes and learn tips on how to heal relationship fatigue.
What is relationship burnout?
Relationship burnout is when two partners in a romantic relationship develop feelings of fatigue and lack of energy in the relationship. Both partners might become less committed to the relationship's success because they are focused on other things.
Due to this, it might become more challenging to settle conflicts amicably and love each other the right way. If a relationship burnout is unchecked, it can cause a breakup in the long run.
Research on marriage burnout shows that various factors influence the level of burnout that one is experiencing. Chief among these reasons was the number of children that one had.
5 signs of relationship burnout
Have you noticed that everything about your partner seems to irk you? You might be experiencing relationship burnout. Here are some common signs of relationship burnout
1. Your partner's habits annoy you
When you discover that some of your partner's habits do not sit well with you, they might be emotional signs of burnout. Some of these habits were exciting and cute to you before. Suddenly, you begin to react unpleasantly when they exhibit those habits.
Related Reading: 

How to Deal With Your Partner's Annoying Habits
2. You don't look forward to spending time with your partner
Another sign of relationship burnout is that you are not excited when spending time with your partner. If you had your way, you would prefer to stay alone instead of being with your partner. Also, your partner's presence irritates you, and you don't want to be anywhere close to them.
3. You experience regular conflicts with your partner
When it comes to feeling burnout in your relationship, you will notice that disagreements are a common feature between you and your partner.
It is normal for relationships to experience conflicts because it helps both partners understand each other more and create ways to make the relationship successful. But, if these conflicts are too frequent, you might be experiencing a long-term burnout.
Relayed Reading: 

15 Relationship Conflict Patterns & Common Causes
4. You think about ending the relationship
Another way to know you are experiencing relationship burnout is you often think about parting ways with your partner. Anytime your partner talks about the future, you get irritated. You want to live in the present or probably stay on your own with no commitment.
Sometimes, cheating on your partner crosses your mind because you want to try something new.
5. You are always in a bad mood
Relationships come with ups and downs. During the lows, partners need to deliberate about helping each other heal from relationship fatigue.
If you are always in a bad mood, it is a symptom of relationship burnout. Hence, if you are wondering how do you know when you're burned out, it is when you have prolonged bad mood feelings.
What are the causes of relationship burnout?
Every relationship is different, so it might be impossible to state that some specifics would apply to all relationships. However, the signs and causes of relationship burnout conventionally apply to the average relationship. Similarly, the tips to overcome relationship burnout will work for any union.
Regarding what causes relationship burnout, it is due to some factors that some partners might not have been sensitive to. Here are some of these causes
1. Complacency
When a relationship has lasted for a long time, both partners are likely to be complacent. This is a relaxed state, thinking that everything in the relationship will go smoothly.
Even though both partners experience excitement, the relationship could become stale over time if they are not deliberate about each other and the union. Therefore, couples need to reawaken often the thrills and energy they once experienced when they started the relationship.
2. Unresolved issues
It is normal for a relationship to have issues because both partners might have different mindsets and ideologies. However, it can worsen if these issues are unresolved and the parties in a relationship act like everything is fine.
When this happens regularly, there will be relationship burnout because you will get tired of pretending that you and your partner are on the right track. It may make you inclined to have an affair.
Related Reading: 

30 Common Relationship Problems and Solutions
Here are some signs that your spouse is having an affair:
3. Lack of quality time
When partners do not spend quality physical time together, it can cause relationship burnout. Many partners make the mistake of being too busy for each other.
They spend ample time on other aspects of their lives, but they don't invest quality time with each other. This will make one party feel left out, and their commitment to the relationship will reduce.
Spending good quality time together helps you understand your partner more and resolve conflicts quickly.
Related Reading: 

11 Ways to Have Quality Time With Your Partner
4. Unmatched energy
Another reason why relationship burnout happens is when the energy in the relationship is not at par or does not complement each other. If you feel that you are putting much effort into your relationship and your partner is not reciprocating the same way, you can experience relationship burnout.
With time, you might begin to feel resentful and unconcerned. When these negative feelings build up in the long run, you will lose motivation to work on your relationship.
5. External excessive stress
Sometimes, relationship burnout can be due to external stress like work, mental health, and other stressors. Hence, they can negatively impact your commitment to a relationship.
You might be too focused on smoothening out other aspects of your life and forget that your relationship has been neglected. If you experience emotional exhaustion in other aspects of your life, remember that it can affect your relationship. Hence, apply caution and balance.
Clinical Psychologist Ayala Malach's book titled Couple Burnout talks about understanding the process of burnout as an essential step toward learning to cope with it.
Is it ok to feel burnout in a relationship?
If you feel burnout in a relationship, the relationship has been stretched to a point where you reconsider leaving the relationship.
A relationship burnout can be a defect caused by either any party or some external factor. Hence, anytime you feel burnout, it is an indication that you need to rescue your relationship before it fails.
The 5 burnout stages
Identifying when burnout is likely to happen would help to save your relationship if it ever surfaces. Burnout happens in all stages of our lives, including in relationships. Hence, it is imperative to understand the stages of burnout so that you can prevent it.
1. The honeymoon phase
You are excited, energized, and committed to being the best partner when you enter into a relationship. However, this phase can come with the stress and pressure to overly impress your spouse. Hence, you need to combat these stressors with positive coping skills to keep you in good shape.
Related Reading: 

How Long Does the Honeymoon Phase Last in a Relationship
2. The onset of stress
This stage is associated with awareness. You become more aware of your energy levels. On some days, you realize that you are optimistic and energized. While on other days, you feel your energy level reducing, and it affects you mentally and emotionally.
3. The chronic stress phase
At this point, the change in your stress levels has increased. You will experience more chronic stress symptoms than in the first two stages. You will feel less demotivated in the relationship.
4. The burnout phase
This stage comes with intense symptoms where it is difficult to cope. You know that it would affect your normal state of mind and that you are almost exceeding your tolerance limits. This is where you start considering professional intervention.
5. Habitual burnout phase
This is the point where the symptoms of burnout are ingrained into your soul that you are likely to experience a breakdown. At this point, your relationship stresses you out, and you look forward to your exit. The burnout at this phase would also affect other important aspects of your life.
How to heal relationship burnout
When it comes to saving your union, you need to be deliberate about the steps you will take to achieve relationship burnout recovery. You need to understand that finding ways to heal your relationship from burnout would increase the longevity of your relationship.
Here are some tips to help you heal relationship burnout
1. Discuss with each other and find out why
If you are emotionally exhausted in a relationship, you need to have open and honest communication about this.
It is important to share this with your partner to put your heads together to figure a way out. If you are experiencing marriage burnout symptoms, you need to find why.
Once you can figure this out, the next step would be to find the solution to what is causing the burnout. Remember that it might be impossible to do this alone, so you need your partner's full collaboration and communication.
2. Remind each other of what you like
Usually, the best way to love your partner is to recognize what they like and use this knowledge to treat them right. When it comes to burnout affecting the relationship, you need to apply this tip because it works!
Knowing your partner involves understanding how your partner wants to be loved and learning what they don't like. This knowledge would help you reconfigure how you behave when handling your partner.
3. Work on how to resolve conflicts
One of the most profound ways how to recover from emotional burnout in a relationship is knowing how to resolve conflicts the right way. Many people experience burnout in relationships because they spend too much time engaging in conflicts with each other.
They might have to separate temporarily before resolving the issue in some cases. It is important to find ways to sort out conflicts with your partner so that your relationship can last long.
When it comes to conflict resolution, remember not to be vengeful or spiteful when communicating with your partner. Avoid attacking their personality. Instead, focus on attacking the issue at hand.
4. Go for counseling
There are some cases where you feel an intense emotional burnout in your relationship, and it is difficult for you to communicate the right way. This is the best time to go for counseling. When you opt-in for counseling, you will understand many things that were strange to you.
If your partner is trying to make a valid point that you disagree with, counseling helps you understand the angle they are coming from. Additionally, counseling helps you learn how to love your partner the right way and work through conflicts when they come knocking.
Final thoughts
After reading through this article on everything that relationship burnout entails, you will realize that you cannot afford to be relaxed in your relationship.
If you notice that some things are not suitable as they need to be, you need to discuss them with your partner and set the right measures. This will reduce the chances of relationship burnout happening. And if external factors cause it, it would be easier for you and your partner to manage.
Consider going for relationship counseling or opting for a marital course to help you handle your relationship right.
Share this article on
Want to have a happier, healthier marriage?
If you feel disconnected or frustrated about the state of your marriage but want to avoid separation and/or divorce, the marriage.com course meant for married couples is an excellent resource to help you overcome the most challenging aspects of being married.
More On This Topic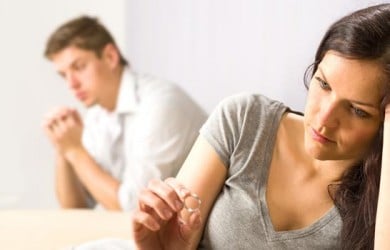 You May Also Like