12 Tips to Deal With Money Imbalance in Your Relationship
Money imbalance in relationships has mainly contributed to conflict between spouses, often leading to divorce. So, how does money affect relationships?
How can you deal with financial problems in a relationship, and how do you avoid being taken advantage of financially in a relationship? Learn more in this article.
One of the issues that disrupt a seemingly healthy relationship is finances. Finances and relationships are intertwined, even though many shy away from the topic. It's highly impossible that you and your partner will rarely earn the same salary.
One partner may feel they will contribute more than the other, leading to money imbalance in relationships or financial inequality in a relationship. If you aren't mature about it, it can lead to more significant disputes.
Many spouses sometimes try to outsmart their partners by engaging in financial infidelity. That means keeping secret bank accounts and lying about your financial capability to your partner. Unfortunately, these measures can only solve income disparity in relationships temporarily. What's the solution, then?
Luckily for you, we have the right answers. In this article, you will learn about the best ways to deal with financial inequality in a relationship. Also, you will learn how to avoid money problems in a healthy relationship. Let's dive right into the topic.
Related Reading: 

Why Money Becomes a Problem in Marriage and How to Overcome Financial Incompatibility
What does having a money imbalance in a relationship mean?
What does money imbalance mean in a relationship? Income disparity in relationships happens when one partner makes more money than the other. As a result, one partner feels burdened that they are over-contributing while the other feels they contribute less.
Financial inequality in a relationship doesn't bother some couples as they see it as less essential to developing the relationship. It isn't a problem as long as one partner, often the man can offset the household money conveniently.
Nevertheless, the other one must be contributing in different ways, such as being emotionally and physically available to help with household chores and kids' care.
On the other hand, some individuals see financial inequality as a big deal in a relationship. Women who earn more than their partners have often asked, "Should I marry a man who earns less than me?" Regardless of the decision you eventually take, solving financial issues in relationships depends on the understanding of the partners involved.
Meanwhile, it is vital to note that men carry a huge part of the household money because it has always been like that in our society. A man is seen as the primary breadwinner, provider, and protector of his household.
When a man earns less than a woman, the woman weighs his overall financial situation by asking, "Should I marry a man who earns less than me?" In turn, the men who earn less feel stressed and inferior.
When you experience money imbalance in relationships, you question the essence and value of your relationship. It also makes you reevaluate the strength of your relationship.
Related Reading: 

How to Strike the Right Balance Between Marriage and Money?
Types of conflict caused by income inequality in relationships
How does money affect relationships? When there is financial inequality in a relationship, it results in many conflicts that threaten the foundation of a relationship.
According to the American Psychology Association (APA), about "31% of adults reported that money is a major source of conflict in their partnership." Financial problems in a relationship don't jump out of anywhere. It is influenced by personal values, cultural background, and society's norms.
For instance, most societies believe a man should be the primary breadwinner, while some believe both partners should contribute. Below are the common conflicts caused by money imbalance in relationships between spouses:
1. Financial infidelity
Financial infidelity is one of the top problems caused by money imbalance in relationships. When one partner makes more money and feels it's unfair, they become secretive. For instance, they conceal many bank accounts and lie about their income to appear less flaunting.
Similarly, the ones who earn less may hide their spending and income to avoid being judged for purchasing things or not. Most partners can't help but engage in financial infidelity to keep the relationship going.
2. Guilt
Guilt is another consequence of income disparity in relationships. When one partner makes more money, they may feel guilty about their financial status or any advancement they achieve in their career.
For example, a promotion or salary raise makes them feel guilty about growing more than their partner. That makes them think they are being taken advantage of financially in a relationship.
On the other hand, lower-earning partners feel guilty for not bringing enough household money. This feeling makes them compromise on personal needs to make up for the gap in the household money. Sadly, this makes them less happy when they can't afford certain things for themselves.
3. Financial power
A financial power struggle is another result of money imbalance in relationships. Since one partner earns more, they may feel they have power over the other. They may start using coercive control to dictate what their partner does. Sooner or later, it leads to a significant problem larger than financial problems in a relationship.
How can money imbalance affect a relationship
If you are struggling financially in your relationship, it is essential to understand how money imbalance can affect your relationship:
1. It affects your communication
Partners sometimes have difficulty discussing an income disparity in relationships whenever there is an income disparity in relationships. They worry about their feelings and their partners. Before you know it, there won't be room for effective communication.
Related Reading: 

10 Effective Communication Skills in Relationships for Healthy Marriages
2. It makes you feel inferior
Sometimes, people blame women who ask, "should I marry a man who earns less than me?"
However, it's not their fault. When one partner makes more money, the other feels inferior and less. They unconsciously hand over the decision-making power to the higher earner. Men especially find it challenging when their partner's income weighs more than theirs.
3. It leads to arguments
If you have been supporting your partner financially for a long time and you suddenly lose your means of income, it may lead to problems in your relationship. You may realize your partner's support might have reduced the household money at that moment.
If you find yourself in this situation, it may be time to reevaluate your finances. Notably, building financial teamwork in a relationship can help you navigate the turbulent times together. Also, you learn how to save money on household items.
4. It makes you worry
Money imbalance in relationships makes you focus on your finances too much while neglecting other things. You may feel emotionally disconnected from your spouse and family.
That makes you anxious whenever there are bills to pay. Worrying and getting anxious over financial issues can be draining and overwhelming. This ultimately affects other aspects of your life.
How important are money differences in a relationship
Is money necessary in a relationship? Yes. That's why you need to discuss your income early on in the relationship.
Money differences are crucial to the growth of any relationship. Even if it doesn't cause any issue in the future, couples should endeavor to talk about it to be on the same page. That way, partners won't feel guilty over their earning power or engage in arguments constantly.
Furthermore, talking about money differences can help you understand your partner's view on money and their background. While discussing this, ensure you respect your partner's perspective, even if they are different from yours.
12 tips to deal with income inequality and money imbalance in your relationship
Check out the ways to deal with money imbalance in the relationship:
1. Evaluate your expenses and income
Solve financial problems in a relationship by tabling your expenses and income. Check how much each partner earns and what you spend money on. Write down the specific take-home of each partner and your monthly fees. Cross out any insignificant spending and focus on the important ones.
2. Agree on financial disparities
With your expenses and income on paper, it's time to agree on the dynamics of your finances. Are you contributing equally to bills? Who pays for dates? Who pays for utilities?
With your current income and expenses, do you think you should pool your income together, create a joint account for household money or create a separate account and contribute when there is a bill to pay?
When you take these decisions together, it allows each partner to feel in control of their finances. It also encourages fairness and financial teamwork in a relationship.
For instance, you and your partner may not be able to split the bill equally, but agreeing that the partner who earns lower income handles dinner dates and water utility seems manageable.
3. Create a sustainable budget
Another way to solve financial issues in relationships is to create a sustainable budget based on the income of each partner. Creating a budget helps partners communicate effectively by agreeing on how to spend the money.
It will also show you the aspects that most gulp money and which partner is affected the most. The partners must do this together to cross out any guilt feelings.
Learn how to create a joint budget as a couple in this short video:
4. Consider other contributions besides finances
Money problems in a relationship sometimes occur because the partners neglect other household contributions of their partner. For instance, many people don't regard being a housewife as a significant job. Meanwhile, being a housewife involves a lot of work, including taking care of the house and the kids, cooking meals, doing laundry, etc.
Acknowledging activities that don't involve money might help the partners understand that everyone has a role. In fact, countries like Kenya have started to regard the role of a housewife as a full-time career that needs a salary.
5. Appreciate your partner
While financial problems in a relationship appear to be common, many partners don't mind supporting their partners financially. However, money imbalance in relationships becomes a problem when the partner who earns lesser doesn't appreciate the one who makes higher.
If you aren't offsetting large bills, the least you can do is appreciate and encourage the one who does. For example, you can help your partner with laundry, making meals, and helping them prepare for work.
Related Reading: 

6 Ways to Appreciate and Value Your Spouse
6. Support your partner
Another way to solve financial inequality in a relationship is to support your partner in their work. This is crucial if your spouse doesn't mind carrying the household bills. Refer them to people or offer your help if they have a business. You can also be actively involved in their business by supporting their goals.
Related Reading: 

20 Steps to Becoming a Supportive Partner
7. Create relationship meetings
Having a relationship meeting once a week helps partners keep the line of communication open. This helps to plan and check your expenses. You can share any financial concerns, needs, expectations, and responsibilities with your partner in the meeting. From there, you can highlight any problems and create resolutions together.
8. Avoid assumptions
Financial problems in a relationship affect many partners but may create more issues by assuming.
For example, when one partner is the primary breadwinner, they may assume the lower earner engages in financial infidelity. In addition, supporting your partner financially might become draining and make you think you are being taken advantage of financially in a relationship.
9. Have some personal money set aside
One thing that causes frustration when dealing with financial issues in relationships is the inability to spend on yourself. This happens to the one who earns less in lost cases. Partners should ensure they still have access to some money for personal enjoyment to avoid this.
For instance, you don't need to ask for your partner's permission to indulge in some cravings or buy an attractive dress you see on the road by chance.
10. Enjoy your money together
While creating a sustainable budget, ensure you set aside some money to enjoy together as a couple. See this as a reward for your budget and shared bills. For example, you may set aside money for a vacation together.
Other ways include going for a date in a fancy restaurant or a trip to an exciting place together. Such an activity strengthens your bond and contributes to building a healthy relationship.
11. Embrace transparency
Whether you are the primary breadwinner or the lower earner, always be an open book to your partner. Let them know your stance on joint finances, and don't lie to them. Besides money problems, being transparent can help you build a healthy relationship and financial teamwork in a relationship.
12. Embrace honesty
Honesty is the foundation of a healthy partnership and the closest to transparency. It helps you and your partner be on the same page about your finances and other aspects of your relationship. It is essential if there is financial inequality in your marriage.
Conclusion
Money imbalance in relationships is one of the causes of conflicts and divorce among couples. However, there is a way out. The tips in this article can help you and your partner feel confident in your joint financial journey.
If you still have issues building financial teamwork in a relationship, you should seek the support of a couple's counselor. They can help you explore the root problems of income disparity in relationships and sketch out the best plan for your finances and relationship.
Share this article on
Want to have a happier, healthier marriage?
If you feel disconnected or frustrated about the state of your marriage but want to avoid separation and/or divorce, the marriage.com course meant for married couples is an excellent resource to help you overcome the most challenging aspects of being married.
More On This Topic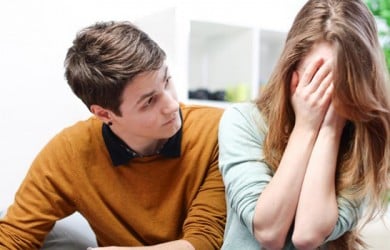 You May Also Like