25 Signs You Lost a Good Woman
You've heard the saying that you don't realize what you have until it's gone.
The reality is, you were well aware of what you had. You were just too confident, thinking it would be impossible to lose it.
Some men become used to women who would do everything for them. After all, they're in love and committed.
It's not always like this. When a woman realizes that she has had enough, she will walk away. That's when you will realize that you're seeing signs you lost a good woman in your life.
What happens to you when you let go of a good woman?
When you lose a good woman in your life, you slowly realize that your life will never be the same. The woman who irritates you with her constant messages, calls, and hugs is gone.
You go home expecting a cheerful woman coming toward you, hugging you, and asking how your day went, but now it's empty.
The woman who you wish would give you space is now gone, and you're feeling cold, wanting to feel her love once more.
You check your phone that was once full of missed calls and messages is now silent.
The life you once had taken for granted is very different now, but instead of rejoicing, you realize something – she's gone forever.
Sadly, when a man realizes he lost a good woman is when it's too late.
When you lose a good woman in your life, that's when you realize that you should have treated her better.
Related Reading:

 20 Qualities of a Good Wife
When will a man realize that he had lost a good woman?
Some women want to know how to make him realize he lost a good woman.
But did you know that once you're done with him, that's the only time he'll see what he had taken for granted?
Men should know when they have found 'the one' and should treasure her.
Other than that, he should see everything that she's doing for him, appreciate her for that, and he could show her how much he loves her, too.
Unfortunately, when does a man realize he lost a good woman? It is when she is gone for good.
Instead of treasuring her, most often, men get irritated by their woman's constant messages, hugs, calls, and reminders.
"Give me some space! You're such a nagger!"
Sometimes, he thinks of it as suffocating love and nagging, but is it?
A woman who's devoted and in love will put her man's needs first, even to where she would neglect her own needs.
Only to find out that he doesn't want this attention and sees them as desperation instead of acts of love.
Until one day, that woman whose head-over-heels in love with you will wake up and realize that she, too, has had enough.
Related Reading: 

8 Qualities of Women That Attract and Keep a Man

 
25 signs you lost a good woman in your life
You had a good woman who loved you and was always by your side, but you didn't recognize her.
You didn't appreciate her, and you may even have hurt her in many ways. She may still be with you, but you feel it don't you?
Here are 25 signs that are too obvious to miss. These signs all point out that you have lost a good woman.
1. You've broken her trust
You know you're looking for signs you lost a good woman because you know that you've done something wrong.
Finally, you have realized her worth, but you also feel that it might be too late.
A good woman will be with you through hard times and good times, but if you break her trust, what's stopping her from calling it quits?
If you've broken her trust because of cheating, money issues, or even lies, then that's one sign she may contemplate if your relationship is still worth it.
2. She stops putting you first
A devoted woman will always put her spouse or partner's needs first. She will think of him every day and take care of him the best way she can.
Maybe you don't notice it because you're used to being pampered like a king.
One day, you realize there's no beer on the fridge, she no longer prepares the snacks that you love, and she no longer asks you what you want to eat.
If it seems like she is no longer putting your needs and wants on her priority list, then maybe you are no longer her focus.
Related Reading: 

Prioritize your Relationship, Partner, and Sexual Connection
3. She treats you cold
A woman who is devoted to her partner will show how much she loves him by giving him hugs, kissing him, tickling him, and even waiting for him to go home at night.
You know she is emotionally exhausted when you notice that she starts treating you cold.
What could have led her to be like this? That's one question to ask yourself.
No matter how sweet someone is, if you don't reciprocate or if you make her feel that you don't appreciate those gestures of love, they'll get tired.
4. She seems different
Men have strong intuition, and this could help you realize that you're close to losing a good woman.
You can't pin point exactly what's happening, but you know something is different with her.
It could be the way she looks at you or the atmosphere of your home when you're together.
This is one of the first signs that your spouse or girlfriend has realized something about your relationship.
5. You don't feel secured
When you're in a healthy and loving relationship, you feel confident and secure.
Can you still feel the same if you have emotionally hurt her? What if you became unfaithful or have abused her?
Often, it's too late to realize that you've treated her poorly, and soon, she would realize this and would just walk away from you.
How can you feel secured and confident if you know you're not taking care of the woman who has loved you the most?
6. She no longer shows interest
A good woman will tolerate you the best way she can.
Believe us when we say that some women would even ignore red flags because of love. But, one day, she'll realize that she doesn't deserve this type of relationship.
When she loses interest in you, it will be obvious, and you will notice it.
She will no longer ask you about your work, about what you're feeling, and would even stop taking care of you.
When a woman has had enough, she could be as cold as ice.
Related Reading: 

7 Signs Your Partner Has Probably Lost Interest in Your Relationship
7. She gets irritated with everything you do
If you're looking for more signs you lost a good woman, try checking how she treats you. It wouldn't take a genius to see this. You will be the one who will notice it first.
Lately, she feels irritated with you, your decisions, your mistakes, and even how you talk.
She's not on her period, but she's planning to put a period on your relationship.
If you think you've done something wrong, it's best to talk to her before it's too late.
8. She starts spending time away from you
Before, she used to ask you if she could join your company outings, she used to ask you to give her time and be with her on your rest days, but now, she's okay with going out on her own.
She no longer asks you to accompany her or begs you to spend time with her. She starts to enjoy her alone time, and could even spend one whole day shopping without you.
9. She starts to ignore you and your efforts
One of the signs you lost a good woman is when all your efforts are no longer working.
You used to ignore her, and a little effort would win her affection back. Your words were enough to woo her back into loving you, but now?
It's different, right? Your sweet words, kisses, hugs, and gestures no longer affect her.
She continues to be cold and distant. That's when you know that this woman has figured you out.
Related Reading:

 15 Reasons Why Is She Ignoring You
10. She is no longer convinced with your promises
"Let's talk. I promise to be better. Give me another chance."
Those good old promises wouldn't work all the time. If you feel these words are no longer working, then maybe she's a different person now.
It's one sign you've lost her. Now, she sees beyond the sweet promises. Words and empty promises no longer appeal to her.
Related Reading: 

Breaking Promises in a Relationship – How to Deal With It
11. She starts prioritizing herself
She used to wake up early and prepare breakfast. She would put you first, even though she's tired or sleepy. She would even wait until you come home late, even if she's hungry and tired.
Now, she can eat without waiting for you. She will sleep if she's tired and would start to prioritize herself, her mental health, and physical health before you.
If you want to know, yes, this is one of the signs she is gone forever.
Related Reading: 

What Is the Difference Between Self-Care and Selfishness
12. She goes out more
"Don't you have anything else to do? You're always here at home, like a puppy waiting for me."
Still, she does it for you. She would be at home, waiting for you, smiling, and ready to give you hugs and kisses when you get home.
Instead of being thankful, you don't see it as something sweet but as something boring.
Now, you go home, and she's not there. She's out with her friends or with her family. She has learned to go out more, even on her own and enjoy the outside world.
13. She doesn't try to talk to you anymore
When you have issues before, she'd be the first one to try and talk things over, but now, she no longer puts the effort to do it.
She's tired of trying to be the one who initiates the peace in your relationships.
14. She's learning to be more independent
She started learning how to fix her car and replace a bulb light.
Your woman started realizing that she can do it on her own and has started showing signs of independence.
You should be happy and proud of her, right?
But you're worried, aren't you? Your gut is telling you that soon, she might realize that she doesn't even need you in her life.
Related Reading: 

How Being Too Independent Can Destroy Your Relationship
15. She starts re-discovering herself again
Be sure not to regret losing her while you're busy ignoring her.
One day, she'll realize that she needs to re-discover herself. She starts to understand what self-love is, and it's showing with how she acts.
The woman you've ignored is starting to transform into a beautiful butterfly who's ready to spread her wings.
16. She starts enjoying new hobbies
"I hurt her and lost her. She only wanted my attention, but I didn't want her company. Now she's gone."
Once a woman starts learning how to enjoy new hobbies, she becomes unstoppable. She would have the urge to explore hobbies and even new meet new friends.
She'll soon realize there's a life out there that's waiting for her.
17. Intimacy is no longer there
She doesn't hug you anymore, kisses you goodnight, and no longer wants to be close to you.
Something has changed. She realized that being the only person in the relationship who makes an effort is a lost cause.
Ironic, isn't it? Once she stopped being sweet, you started missing those gestures.
Related Reading: 

Top 5 Most Common Reasons Why Couples Stop Having Sex
18. Sex feels different
You're still together, but this time, you are the one feeling that there's something different in the relationship. Even sex feels off or different.
She used to be so passionate, and you can feel her love, but now, it's just carnal desires being fulfilled.
19. You no longer receive texts or calls from her
You used to check your phone and see many missed calls and texts. Often, you feel suffocated by the constant messages.
You might not even bother reading her messages. You're so used to her being all sweet and concerned, always asking where are you, have you eaten your lunch, and all the other usual stuff that you have ignored before.
Now, you check your phone, and there's not even a single text from her.
She doesn't answer your texts or calls. She's busy, and you're the one wondering what she's doing.
Related Reading: 

15 Reasons Why She Never Texts You First
20. She allows you to do whatever you want
Men hate it when their spouse or girlfriend asks them about their boy's night out. They hate it when they receive a constant text about what time they'll come home.
You know you've lost a good woman when she begins to allow you to do whatever you want.
Whatever your plans are, wherever, and even if you don't come home, you won't hear anything from her.
21. She doesn't smile or giggles with you anymore
She no longer has the twinkle in her eyes, and she no longer smiles at you the way she used to.
It will hurt once you realize that her love is slowly fading away.
22. She realizes her worth
One sign you lost a good woman is when she starts realizing her worth.
She begins to question you and your relationship. This woman begins to see what she can do, what she deserves, and what she's worth.
23. She starts fulfilling her dreams – alone
What's next when she's finally done?
She will still fulfill her dreams, with or without you. She has learned how to be independent; she knows her worth, and she has the time.
Your spouse or girlfriend might go back to school, start working again, and start that business that she's been dreaming of.
24. She tells you that she's done
You have seen the signs you lost a good woman, but it will feel different when she tells it in front of you.
Soon after these signs become obvious, she will tell you she's done, and she wants to explore her life once more. She will ask your time once more, just to tell you what she has realized and what she feels.
25. She decides to end the relationship
Finally, the last straw of your relationship is the moment she asks you to end it.
That's when you know you've lost her for good. She won't be coming back because she knows she has given everything, she has done her part, and she won't have any regrets.
Best-selling Author, Speaker, and expert dating coach, Mat Boggs talks about relationship regrets.
Related Reading: 

15 Ways of How to End a Relationship Without Regrets
Now that she's gone, what happens next?
"I should have taken care of her. I regret losing her. Is it possible to get her back?"
Most of the time, a woman who has made peace with a failed relationship will show no interest in coming back, but who knows?
If you're sincere and would show her you have changed, maybe, just maybe, she will reconsider.
Conclusion
Losing a good woman isn't easy. The signs you lost a good woman may not always be obvious, but if you pay enough attention, you might do something about it, before she finally gives up on your love.
No matter how much she loves you, don't be too confident that you end up ignoring her.
Appreciate your partner; realize every little thing that they are doing for you and your relationship.
Show love, appreciation, sweetness, and effort.
Hold on to that precious woman who has been with you through your trials. Don't make her feel alone and unloved.
Share this article on
Want to have a happier, healthier marriage?
If you feel disconnected or frustrated about the state of your marriage but want to avoid separation and/or divorce, the marriage.com course meant for married couples is an excellent resource to help you overcome the most challenging aspects of being married.
More On This Topic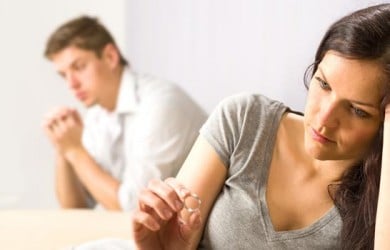 You May Also Like