8 Signs of an Almost Relationship and Ways to Cope
Relationships are an important aspect of our lives and can determine our happiness. If you don't define a romantic relationship, it is easy to get stuck in an almost relationship.
The long frequent phone calls and texts, the daydreaming, and the giddiness can go on for a while until you stop in your tracks and realize that it isn't going past that stage – the almost relationship stage.
You can have something special with someone, a deep connection, or something more significant than a crush – a 'situationship,' but the relationship isn't progressing.
Well, you are not the only one here! So many people are in almost relationships, and just like you, they are trying to figure out what it is.
So, what is an almost relationship?
What is an almost relationship?
An almost relationship is a situation between two people with a strong connection that results in nothing. This is where both parties have strong feelings for each other but don't move on to have an actual relationship.
An almost relationship is a relationship with no labels, responsibilities, or accountability. Since there are no labels, you and your 'almost partner' are not sure what to call each other, you are not sure of your boundaries, and you are not accountable to each other or held responsible for your actions.
It's an undefined relationship where you and your 'almost partner' enjoy most or all the benefits of a proper relationship without giving yours the official tag of a relationship. In cases like this, you or your 'almost partner' avoid the elephant in the room and skirt around it.
Do you feel butterflies when you think about him or smile like you've won the lottery when you text this person? You might be in an almost relationship if your partner doesn't feel the same way.
Related Reading: 

15 Signs of a Superficial Relationship
8 signs an almost relationship isn't worth it
'Almost relationships' can take a lot from you emotionally if you don't know when to step out of them.
You may tell yourself repeatedly that you are very good friends with a particular someone, but deep down, you aren't convinced of that.
Here are some obvious signs that your almost relationship is not worth your time:
1. You avoid 'the talk'
'The talk' simply means the conversation that defines your relationship.
If you both decide to go with 'the flow' and stay without labels, you are in an almost relationship. You avoid the defining discussion because you don't want to put a tag or a label on it.
Nobody can remain in an 'almost relationship' for too long. If you aren't putting a label on it, then there is a probability it isn't going anywhere. You skirt around defining the relationship because you are of the notion that you ruin everything once you talk about it.
Related Reading: 

4 Relationship Conversations You Can Have With Your Partner
2. You are scared of being an open book
You are scared of being transparent with your 'almost partner' and afraid to tell them everything about yourself, so you withhold certain things.
Being in an almost relationship makes you worried about telling someone who isn't your official partner secrets about yourself because you don't know how they will react. This problem doesn't arise in a proper relationship.
You should be able to come clean and be transparent about everything with your partner.
3. You overanalyze texts
Overthinking their responses is usually a powerful sign that you are in an 'almost relationship.' You analyze every pause or short text. Your mind goes into overdrive, "maybe he isn't interested anymore," or "maybe she needs some space."
Sometimes, you analyze your replies, too. For example, you can take your time typing a long reply and delete it because you aren't sure if it is appropriate or your tone is right.
Related Reading: 

170 Sexy Goodnight Texts to Get Your Spouse Hot and Bothered
4. The relationship is an emotional rollercoaster
At one point, you're emotionally high, and the next, you're emotionally low. It's like a switch where you go on and off frequently. No contact almost relationships are additionally excruciating.
Your partner decides when it is suitable for them to be emotionally involved, and the rest of the time, you accept however they treat you. This is an emotional rollercoaster of an 'almost relationship,' and you're positioned right in the middle.
5. You are the only one invested in the relationship
This, in a word, is called one-sidedness. You invest in the relationship, but that's all that happens because your partner doesn't reciprocate your action.
One-sided feelings, i.e., unrequited love on your part, are proof that you are in an 'almost relationship.'
Almost relationships can have adverse effects on your mental health. You deserve to be happy and be with someone who loves you.
6. When you can't explain your relationship
If you cannot successfully explain your relationship to your friends, family, or even yourself, then that is a sign that your 'almost relationship' is not worth your time.
If you get flustered or frustrated trying to explain the dynamics of the relationship with your 'almost partner,' then your almost relationship is not worth it. But, on the other hand, you shouldn't find it difficult to explain a loving and devoted relationship.
7. You can't talk about your future together
You or your 'almost partner' don't entertain any talk about your future together. All you do is talk about the now and the immediate past.
An ability to discuss the future indicates a lack of commitment and dependability in your relationship. The hesitation can keep you in a state of confusion that can become the cause of stress.
8. Your relationship is a secret
If you and your partner have decided to keep your relationship a secret for no peculiar reason, your almost relationship isn't worth it. The secrecy leaves no room for accountability and responsibility.
You both do what you want without being held responsible for it. Unfortunately, this is not a good sign for a healthy relationship.
Knowing when to move on from an almost relationship
Fighting to keep a relationship together is a brave and commendable gesture but knowing when and how to end an almost relationship is crucial to maintaining an emotionally stable life.
While moving on isn't easy, it is necessary for some situations. Here are some signs that it's the right time to move on.
1. Lack of commitment
A reluctance to commit is one of the red flags of a one-sided relationship. It would be a good time to bow out of the relationship when you know that your partner is not committed to you. It might be detrimental to your mental health to think they will change and become committed to you.
They might have never wanted a defined relationship, and there's no telling if they'll want it later; don't wait to find out. You have a better chance with someone willing to commit to you if you do this.
Related Reading: 

15 Signs of Commitment Issues and How to Overcome Them
2. When it's a one-sided affair
If you have noticed that you bring all the love, comfort, effort, attention, and commitment to your almost relationship, it's time to move on from it.
Don't overthink ending the relationship, as one-sided emotions are not good for your mental health or future. Instead, figure out how to end it in the best way possible and walk away.
3. Feeling guilty
Why should you feel guilty for having feelings for your almost partner? Falling for your almost partner should be expected in an almost relationship, so you should not be in it if you feel guilty.
Cutting off an almost relationship can be as complicated as breaking up a relationship with labels. It hurts and can leave you heartbroken even though it was never defined. Keep reading to learn how to cope with this burden.
Reasons why almost relationships are harder to get over
When you are in an almost relationship, the confusion and hope for a better tomorrow make you hold onto the relationship too long. Even after getting out of them, you might find it difficult to get over these relationships.
Here are some revealing reasons that make getting over an almost relationship difficult:
1. It's all in your head
It is very easy to feel like you don't have a right to hurt after an almost relationship breakup. This is because it was never clearly defined in the first place, and now you feel like you are heartbroken over something that was all in your head. This hurts more.
2. Wasted time & emotions
Again, because the relationship wasn't labeled, you feel like you wasted time over something that wasn't tangible. You might feel like you missed out on someone who could have offered you something tangible.
Wasted time is not the only thing that hurts in an almost relationship, but wasted emotions. It can be hard to get past the emotions you invested in a relationship that wasn't reciprocated.
3. No closure
Since you never defined the relationship from the start, you can't ask why it ended. But unfortunately, this question sticks with you for a long time and could lead to insecurities that can affect your self-esteem.
Related Reading: 

10 Reasons Why Is Closure Important in a Relationship
5 ways to get over a heartbreaking almost relationship
Like every other form of heartbreak, an almost relationship heartbreak hurts and needs time to heal. However, a few steps will nudge you toward healing and getting over an almost relationship.
1. Acknowledge what you feel
It is okay to feel hurt, pain, anger, and other emotions that come with an almost relationship. But, be honest about them, embrace them, don't try to suppress them, and then let go. This is the first step that moves you on the right healing path.
2. Seek help
This step requires you to speak to someone you trust about what you are going through. It could be your family, close friends, or a mentor. If you don't want to talk about it with your friends and family, you can visit a counselor or a therapist.
Talking to a third party could help give you some clarity about the situation.
3. Take some 'me-time'
Are you curious about how to get over an almost relationship? Then take some time off to spend with your loved ones. You can also take time to care for your mental and physical health.
Engage in healthy activities, and you can also try something new, such as painting or traveling.
Related Reading: 

How to Find Time for Yourself After Marriage?
4. Silence the inner critic
Your inner critic always jumps at the opportunity to criticize and kick you down when you're going through a rough time. So it is easy to get lost in this voice that it becomes difficult to move on.
You can silence your inner voice by reflecting on your situation realistically and accepting your feelings. It is perfectly normal to hurt after ending a relationship.
Watch this video by Kari Romeo as she explains an effective way to deal with your inner critic:
5. Exercise patience
You have just gone through something challenging; give yourself time to heal. Don't rush the process because there is no magic formula that automatically makes you feel better.
A study published in the Journal of Positive Psychology stated that about 70% of participants needed at least three months to get over a relationship.
Practice these steps at your own pace, and you will be halfway to your healing. Time is the last step that heals. So, give yourself time and trust the process.
Takeaway
Almost relationships don't necessarily have to be a waste of time or a negative thing; they can turn out to be the talking stage for a beautiful romantic relationship. All you have to do is define it, be committed, and be accountable.
Share this article on
Want to have a happier, healthier marriage?
If you feel disconnected or frustrated about the state of your marriage but want to avoid separation and/or divorce, the marriage.com course meant for married couples is an excellent resource to help you overcome the most challenging aspects of being married.
More On This Topic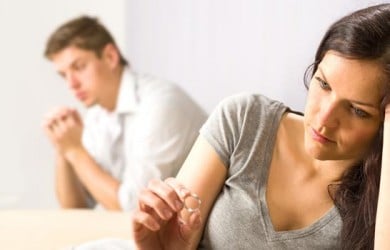 You May Also Like