What Happens When There Is Lack of Attention in Relationship?
What is your opinion about lack of attention in a relationship?
Do you think this is just a form of neediness or a valid sign that a person should not ignore it?
Attention is important, and it doesn't matter whether we are busy with our hectic lives, or we're targeting a promotion, or we have a conflict in schedules. If you know the importance of connection and attention, then you'll find a way to do it.
Is attention important in a relationship?
We married the person we love not just because we have fallen in love with them but also because we have seen ourselves growing old.
Along with our vows, we believe that we have already found a partner that will be with us through thick and thin and would never let us feel that we're lonely or alone, but what if you find yourself yearning to get your spouse to notice you?
Some men might mistake the lack of time and attention in a relationship as overly dramatic, like women love attention and can't go a day without it, but that's not entirely true.
All of us crave attention one way or the other; sure, we seldom see men complaining about "my wife doesn't pay attention to me," but men also need attention because it is also a way to show how much we love a person.
To put it in a more straightforward form, if we love someone, we will find a way to show how much they mean to us, and one of the easiest ways to do this is by paying attention to them.
Love and attention are directly proportional to each other and are extremely important for the survival of a relationship.
Remember, attention is important.
Related Reading: 

Tools for Showing Attention to Your Spouse
Effects of lack of attention in relationship
If one partner is not getting enough attention from another partner, it can cause a chain of reactions and even lead to bigger conflicts in the relationship. Don't be perplexed, and it's nothing that can't be saved.
Lack of attention in a relationship is the same as the lack of communication. They are connected.
Here are just some of the effects if one partner will fail to pay full time & attention not just with their partner but with the relationship itself.

1. Losing the connection
It is the apparent effect if you stop giving your spouse the love and attention they deserve.
You drift farther apart. The usual late-night talks have now become a once-a-month thing, and soon it will turn into nothing. You're sleeping in the same bed and living in the same house, but you have now become strangers.
Does it have to come to the point where you have to hear your spouse ask, "why do I crave attention" – the attention and love that should always be present in your relationship?
Before you lose that special bond, learn to give undivided attention in relationships.
Related Reading: 

Benefits of an Emotional Connection Between Loving Partners
2. Being insensitive
Lack of Attention in relationships will make us insensitive in so many ways. In time, we will no longer see our partner's needs, the bond that we need to work on, and the family we are trying to build.
No matter what reasons you have that are causing you not to pay attention to your spouse, it's not worth it.
3. Poor self-esteem and self-worth
If your spouse gets used to being ignored, chances are he/she will have very poor self-worth and self-esteem. It will significantly affect your partner more than you can understand.
They will start to think that they are not getting enough attention in a relationship, maybe because they are not worth it, and that feeling can break anyone.
To know how to fix your self-esteem watch this video:
Related Reading: 

How Low Self Esteem Affects a Relationship
4. Lack of intimacy
If you ignore your partner, then most likely, there is also no intimacy involved in your relationship.
Is it because you no longer love them? Is it because he/she no longer seems beautiful? Or are you just honestly busy?
Lack of intimacy hurts, and it slowly destroys your relationship.
Related Reading: 

Reasons for Lack of Intimacy in Your Marriage
5. Vulnerable to infidelity
A person who has no attention from their partner is most likely to react in different ways.
They may seem sad and depressed at first, but the lack of attention in your relationship will open new doors for people to make their move on your spouse.
It is a possibility that we should keep in mind.
A person who doesn't feel wanted is vulnerable. A person who has been neglected for so long will be prone to people who would be ready to give them the time and attention that you can't – this leads to infidelity.
Related Reading: 

Powerful Benefits of Vulnerability in Relationships
6 Signs your partner needs attention
Pay close attention to your partner's behavior towards you. Chances are, they are already sending you signals that they need your undivided attention in a relationship.
Many couples split up because; either the wife is tired of begging for attention from husband, or a man is not getting attention in a relationship. You can save yours by recognizing if your partner behaves like someone who wants attention.
This list will help you get a clear picture of begging for attention in a relationship.
1. Your partner wants to be around you all the time
If your partner is always finding a reason to be around you every time and never leaves you alone, you should know that the lack of attention is causing the fear of abandonment.
Also Try: 

Abandonment Issues Quiz

 
2. Their behavior has turned passive-aggressive
Making passive-aggressive digs is a clear sign of hidden anger and lack of attention in relationships. Your partner might be unhappy with the constant thought of why do I crave attention when the other person doesn't.
It would be helpful if you could pay more attention to your partner to make sure they are happy.
Related Reading: 

Passive Aggressive Behavior- Do You Have It?

3. They are spending more time on the phone
We can't deny that most modern couples deal with their problems by neglecting them for as long as possible. If your partner feels ignored by you, he/she might rely on technology to fill that void.
Some people choose to watch movies and dramas, some over engage in social media, news, and some find comfort talking to others over these social media platforms because they feel supported.
If your partner spends more time with their phone than you, you need to pay more attention to them to keep your relationship stronger.
Related Reading: 

How Cell Phones Can Be Ruining Your Relationships
4. They have stopped sharing their needs
Suppose you think your partner has suddenly turned into a one-person army. They think they could handle anything and everything in life, and they are constantly refusing to take any support from you.
It's a clear signal that there is a lack of attention in your relationship. They need you to be there more than you are, and they have stopped hoping that you would understand. It's time you realize they deserve the attention they are demanding.
5. They are not interested in getting intimate
When a person doesn't get the attention they deserve, they feel unhappy and unwanted. The detachment makes them look at you as a stranger and face trouble getting intimate or having sex.
It's a clear sign that you need to spend some couple-quality time to reconnect with your partner.
Related Reading: 

Reasons for Lack of Intimacy in Your Marriage
6. They seem more distant
Some people love to be extra clingy and around their partner all the time, some tend to make a distance with their partner when they feel neglected.
Try to understand that they were around you because they felt wanted and needed, and now they don't think that you enjoy their company.
6 Causes of lack of attention
It is almost impossible to believe that people who are in a relationship want to hurt their partner.
Some of them may have a toxic nature, but most of them are doing so because they are unaware of the facts that are causing the lack of attention in their relationship.
Most of the time, people do not recognize the core of the problem. While many couples want to solve any dispute in their relationship, sadly, they don't know where the problem lies.
1. Your partner is too comfortable around you
Sometimes when people feel accepted and comfortable, they tend to forget the basic rules of a relationship; expressing themselves.
When we start a relationship, we put every effort in our bones to make it work, and once it gets comfortable, we forget to show affection and attention.
It is one of the most important causes of lack of attention in a relationship.
Related Reading: 

Signs You're Getting Too Comfortable In A Relationship
2. Imbalance of personal – professional life
Yes, it is essential to focus on your career growth, social responsibilities, and other societal aspects. Still, some people forget to focus on their personal lives while doing so.
You may not realize that you have gotten so busy in your work, the social life that you have started to neglect possibly the most important person in your life.
This kind of behavior will certainly make your partner feel a lack of love and attention.
3. Your partner is feeling insecure
When people don't feel good about themselves, they project their insecurity in many ways. It would help if you could find out if their self-esteem is low or they are feeling under confident.
That is one of the reasons why they don't express their feelings or pay attention to you. You need to talk to your partner if they are insecure about themselves and start to work on your relationship as soon as you can.
The feeling of insecurity can lead them to care less about expressing their affection.
Related Reading: 

Tips to Stop Being Insecure in a Relationship
4. Your partner's mental health is poor
An emotional and mental disturbance may not seem like an issue initially, but it could ruin your relationship with time.
Look for any signs of depression, post-traumatic disorder, anxiety, or OCD(Obsessive-compulsive disorder). If any of these signs of mental health issues are visible, the best will be to talk to them about it.
Be sure to tell them that you are there for them, and if they are deep down on that road, get them professional help.
Related Reading: 

How to Improve Your Mental Health in Marriage
5. Your partner has a different personality
Maybe you are one of those people who love to express their feelings or make sure that their partner knows that you are head over heels in love with them.
But some people are not good at it, and in fact, they don't feel comfortable expressing their affection. It doesn't mean that they don't love their partner, but they cannot provide undivided attention in the relationship and to their partner.
The difference of personalities can cause the feeling of lack of attention in relationships.
What does it mean to be attentive in a relationship?
If you want to know how to be more attentive, avoid conflicts, growing apart, and resentment with your partner, you must be an attentive partner from the start. But, you can start as soon as you realize you are lacking.
There are many ways you can revive your relationship and be attentive. For starters, you can start listening to your partner more than you did. Understand what they mean, and ask questions about it.
It shows that you are interested in what they are telling you, and they feel more affection. Ask about their day, how they are feeling,how their job is going, how their family is doing, what's going on in their life, etc.
All these questions will make them feel loved and fill up space in your relationship. Asking about your partner's personal and professional life is the best way to be more attentive.

4 Ways to give attention to your partner
If you think that you are not giving the attention to your partner that they are begging for, and it is ruining your relationship. You might want to learn to work harder on your relationship.
If you don't start to give attention to your partner, they will soon be distant, and then you both feel the lack of attention in your relationship.
Here are some ways that can help you to guide on ways to give attention to your partner.
1. Understand it's a conscious and continuous effort
When the spark starts to fade in a relationship, people begin to look away from their partners and pay attention to different things.
Understand that a strong relationship needs undivided attention from both of you, and to achieve that, you need to pay attention to your partner every day.
2. Plan a trip together
Sometimes the busy schedule can lead to the problem of lack of attention in a relationship. If you think you want to make your partner feel special but don't have enough time, Plan a trip.
Some alone time can make your partner feel valued.
3. Make decisions together
Sometimes, a monotonous life can make you feel something wrong in your relationship or a lack of attention.
However, if you change your everyday routine and start doing things together, it might break the monotony and bring you closer to your partner.
Start with making everyday decisions together, and you will find you both end up doing almost everything together.
Related Reading: 

Ways to Make a Strong Decision Together
4. Understand their grievances
It may seem like your partner is constantly nagging, but you need to understand their feelings too. It would be best if you dug deep into why they are doing this.
Understand that they are already feeling a lack of attention from your side, and if you dismiss their issues, it will only make things worse.
3 Ways on how to get partner's attention
How to get your partner to pay attention to you?
It is a work in progress, but this is your relationship; you'd probably be willing to work on it.
1. Don't give up just yet
Don't give up on your partner but be mindful about your method. If your partner is busy, you might want to ask them for their free time or talk.
Don't demand; instead, try to understand your partner. The most common reason people choose to ignore their spouse is that they try to nag, which will not help.
2. Make them feel valued
If you think it's not enough, pour yourself into the relationship a little more.
Cook special meals and give them a massage and then try to talk.
3. Seek professional help
If both of you have specific issues to address, then why not consider asking for professional help? It will save you both time, and the results will be excellent!
Seeking help to keep your relationship is never something to be ashamed of. It's something to be rather proud of because you are both working on saving the relationship.
Conclusion
Lack of attention in relationship can be a common problem today, especially when we are busy and stressed out.
Be sure to pay attention to your partner because love, attention, and respect will make your relationship strong.
Share this article on
Want to have a happier, healthier marriage?
If you feel disconnected or frustrated about the state of your marriage but want to avoid separation and/or divorce, the marriage.com course meant for married couples is an excellent resource to help you overcome the most challenging aspects of being married.
More On This Topic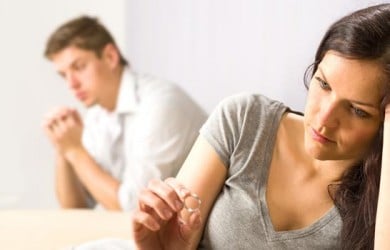 You May Also Like