10 Long Distance Relationship Problems and What to Do About Them
Relationships can sometimes get very difficult to handle, particularly when they are long-distance relationships.
When you're deeply in love with someone, it gets tough to balance and act as a buffer between various situations. Minor fights are part of every relationship, but those fights worsen if not handled in time.
Countless problems arise in a long-distance relationship. Long-distance relationships are hard, indeed!
But, wise decisions taken on time can indeed tackle the long-distance relationship problems. They can save your relationship from hitting rock bottom.
So, how to deal with a long-distance relationship? And, how to fix a long-distance relationship that's falling apart?
Before coming to a solution, the long-distance relationship problems have to be appropriately understood to implement the exact procedure.
The following are discussed some common long-distance relationship problems that can help you analyze your situation better. And, along with these problems are given some quick fixes that can come in handy in desperate situations.
So, go ahead and unveil the solutions for your nagging issues.
1. You want them to respond immediately
This happens to almost every couple. It is, in fact, one of the typical long-distance relationship problems. For instance, you texted your loved one or called them, but they didn't respond.
Sooner enough, you'd find yourself in a situation where everything about your partner would seem suspicious. You might doubt them often for no apparent reason.
It so happens that you start feeling distant in your relationship and start questioning why long-distance relationships don't work.
Related Reading: How to Make a Long Distance Relationship Work 


What's the way out?
You need to realize that these thoughts are self-inflicted and that reality can be far different from your thoughts.
It doesn't necessarily mean that if your partner couldn't respond, then something is fishy. You need to be patient and wait for them to get free and answer your texts or calls.
Having doubts about a new relationship is normal. But, if those doubts perpetually linger on, it is more likely that the fault lies with you instead of your partner.
2. Talking for too long
This trait is pretty common with couples who have just begun with their long-distance relationship. This is one thing that the new lovebirds yearn for.
And why won't they? This is the only way for them to keep their relationship alive!
Maybe, this would look fine on the surface at the inception. But, as the relationship matures, if one of you gets stuck with this habit of talking or chatting all day and all night, this habit will soon get categorized as one of the annoying long-distance relationship problems.
What's the way out?
If you aim for a lasting relationship, it would be best if you keep things in moderation. Of course, you must stay in touch and share every little thing about yourself to your partner.
But, that doesn't need hours and hours of chattering. A balanced and sensible conversation for a limited amount of time will reap you enormous benefits in the long run.
Related Reading: 

10 Smart Ways to Avoid Long-Distance Relationship Drama
3. Pausing the rest of your life
If you find your relationship growing apart, this is one of the major long-distance relationship problems to look out for!
Do you always have your eyes focused on your phone all the time? Does everything else seem to be stalled? Do you feel like you can't do anything unless you're together?
If yes, then you're escalating problems for yourself in the long run.
Getting too involved in the relationship than it's required would give you nothing but depression.
Long-distance relationships are complicated. But, neglecting the rest of the social and personal life matters might lead to anxiety issues and depression.
And this, in turn, might lead to inflated long-distance relationship struggles.
What's the way out?
Don't let your life gyrate around your love-interest. Instead, discover other interests, indulge in new hobbies, and, most importantly, build your career!
Doing this will help you improve your quality of life and, in turn, foster a happier and healthier relationship with your partner.
4. Almost no in-depth communication
Long-distance relationship problems may also involve fewer in-depth communications. People often feel that there's nothing much to talk about, and the conversations stay superficial.
Important and serious issues of life should be discussed, but you often end up asking about how the day was, and again, the in-depth communication is nowhere.
It happens because the two people are not sharing their worlds. People tend to feel that their partners won't understand what they are experiencing even if they share.
People in a long-distance relationship find it easier to talk about their day-to-day problems with friends or colleagues with whom they share the physical space.
What's the way out?
Despite these long-distance relationship issues, every couple must make deliberate efforts to communicate better for a happy and healthy relationship.
Have a zoom date, and mind you, dress up just the way you would have done for a physical date!
This is very important to beat the distance. So, be innovative and leverage the technology to feel the togetherness and have a hearty conversation.
Related Reading: 10 Ways on How to Make Her Feel Special in Long Distance Relationship 


5. Insecurity
This is another one of the commonly observed long-distance relationship problems.
It is normal for insecurities to arise. And, when they do, you seek for your partner to reassure you.
But, in case of a long-distance relationship, it might not be easy to reach out to your partner when you think about them.
Insecurities in a relationship can make you more jealous and erode the trust among you and your partner.
Related Reading: 6 Ways on How to Build Trust in Long-Distance Relationships 


What's the way out?
Severe insecurities are the ones that have to be dealt with sooner enough to avoid further issues. Dealing with long-distance relationship problems and solutions should always be a couple's priority.
If you or your partner feel insecure for any reason, don't allow it to linger and become chronic. Talk about it when both of you are in a receptive mood.
Do not force your partner or throw tantrums. Doing so may ruin things beyond repair. So, keep patience and handle the situation maturely to have a loving, stable relationship.
6. Misunderstandings
Misunderstandings are always there in every relationship. The serious ones are the real issue.
You'd have often wondered how to fix long-distance relationship problems after a fight when long-distance gets hard, and you might have looked for various psychologists and personality theorists, but nothing helped.
What's the way out?
In the case of misunderstandings, you need to rethink. Admit your mistakes.
You need to talk to your partner and clear the misunderstanding before approaching the psychologists.
No doubt, experts can help solve the issues, but always remember, eventually, it's only you and your partner. Without your consent, nothing can improve.
Related reading: Managing a Long Distance Relationship 


7. Ignoring other important relationships
Long-distance relationship problems may also include ignoring others.
Do you spend your leisure hours on the phone talking to your significant other?
If yes, then it's a red signal. What you're doing is neglecting all the other relationships and just focusing on your love life.
What's the way out?
You need to have a strong network of good friends. You need to connect with your family members and be there when they need you.
If you want to live a happy life, stop ignoring the people who care about you. They might be your friends, siblings, or some other people; they're your well-wishers.
8. Stonewalling
Stonewalling is one of the pervasive long-distance relationship problems. And, it is truly annoying for the one who is suffering from it!
Imagine how unnerving it can be to not receive any call or message from your loved one, for days, with no or little fault of yours!
This might not be the official breakup, but this behavior from your partner can lead to confusion, self-doubt, and frustration.
What's the way out?
Even if you feel that you are snowed under a heap of problems, stonewalling should never be an option.
Sweeping your issues under the rug and conveniently giving the silent treatment to your partner is going to drive the two of you further apart.
In intimate relationships, physical distance is still easy to live through, but, if you are growing emotionally apart, it indeed is an uphill task to revive the relationship.
Thereby, it is advisable to talk out the differences early enough to save your relationship from hitting a bumpy road.
Related Reading: Romantic Ways on How to Be Intimate in a Long-Distance Relationship 


9. Gaslighting
Gaslighting is another annoying long-distance relationship problem.
Many people find it fun to manipulate their loved ones, get into a blame game, and make their partners feel guilty, maybe for something they haven't even done!
This is their way of imposing their importance on their partner. Many people also resort to gaslighting when they are insecure and want their partners to be continuously hooked on their thoughts.
But this is unhealthy. This is not love!
The repercussions of incessant gaslighting can be severe and snowball into bigger problems. The victim can get fed-up, and the relationship can get past mending.
You could lose your true love for life because of petty ego issues and this detrimental habit of gaslighting.
What's the way out?
If you are gaslighting your partner, you need to stop it as soon as you realize you are doing it. Seek professional help if needed.
And, if your partner is guilty, try to explain to them the repercussions. Assure them that they don't have to manipulate you to keep you in their life.
You can also seek couple's therapy to solve your problems and restore your relationship effectively.
Related Reading: When to Let Go of a Long Distance Relationship 


Also Watch:
10. Cheating
Cheating is one of the typical long-distance relationship problems. Firstly, because people have needs, and secondly, it's easy to hide from your partner.
Sometimes, people find it really hard to connect with their long-distance relationship partner and express their day-to-day feelings and challenges.
This is when people start connecting with someone who is physically present and readily available. Without knowing, people invade the boundaries of friendship and start developing romantic feelings.
This is emotional infidelity. But sometimes, all that people want is a physical relationship.
For this, people don't even need to fall in love. This can usually lead to flings, one night stands, or just friendship with benefits!
What's the way out?
For whatever reason, cheating is just not acceptable in a relationship. To save your relationship from infidelity, you must make every effort to connect with your partner.
You can take the help of various intimacy apps, even play sex games, and meet as often as you can.
People engaged in long-distance relationships have their own sets of challenges.
But, if you genuinely love someone, and practice open and honest communication, then distance doesn't matter.
Once you identify any nudging issue, you must make it a point to sort it out before it starts agonizing you.
If you cannot sort out the problems yourself and still want to work it out, try going the professional route.
A licensed therapist or a counselor would be the best person to analyze your situation, identify the underlying issues, and give you an unbiased opinion in the best interest of your relationship.
Also, when we are talking about long-distance relationships, we cannot undermine the importance of modern technology.
Related Reading: Long Distance Relationship Cheating, Challenges, and Moving Forward 

Importance of modern technology
Modern communication tech has given couples in long-distance relationship tools to share their lives. The long-distance relationship problems that we discussed above can be tackled to their best by leveraging technology.
Now, couples can connect not only through a phone call but also through video chat services such as FaceTime, Skype, and Zoom.
This provides couples with access to their spouse's face, body language, and eyes. This relationship in today's age has many advantages compared to the days of letter, pen, and ink.
A study conducted to determine the most popular media used to communicate in long-distance relationships found 81.61% of participants accept that social networks have improved their long-distance communication.
Nowadays, people do not have to sit around and wait for the mail to arrive; there is no disappointment when it doesn't come.
Now spouses can communicate with one another easily whenever they want. There is less disappointment in the relationship and better and effective communication.
Another study exploring the perspectives of individuals who have experienced long-distance relationships determined that social media provides a mode of communication that allows them to connect instantaneously with ease and build a stable foundation for their relationship.
Here are some ways modern technology can help you from growing apart in a relationship and also help you to deal with your long-distance relationship problems:
If you are looking for something more interactive, try to play relationship games online against each other. Multiplayer games like Warcraft or Second Life tend to put extreme interest in players.
Watching your partner's character makes you feel like hanging out in real life.
For example, the Couple App allows you to play games with your boo, make lists of your plans together, and plan your favorite destinations. This is one of the best long-distance relationship activities to pursue.
Try fun activities on video calls.
There are many activities you can do over Skype or Zoom, like playing games or trying out some fun quizzes together.
Other things to do over the video call include drawing challenges, telling your daily stories, and so on!
Talking about your day by literally showing it through a video-blog is a great idea.
Use a randomizer to pick a certain hour (or half-hour) of the day and show your partner what you are doing during that exact time regardless of what it is. Even if you are at work, taking a bath, eating, or sleeping.
Just remember to keep it safe while doing your half-hour, especially when driving or working.
Otherwise, like a real video-blog, see if you can describe what you're doing as much as you can without getting caught.
So, good luck with your long-distance relationship!
Related Reading: 6 Tips on Creating Romance in a Long-Distance Relationship 
Share this article on
Want to have a happier, healthier marriage?
If you feel disconnected or frustrated about the state of your marriage but want to avoid separation and/or divorce, the marriage.com course meant for married couples is an excellent resource to help you overcome the most challenging aspects of being married.
More On This Topic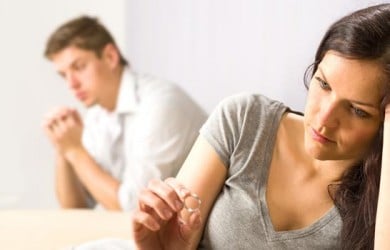 You May Also Like