Scared Of A Committed Relationship? 10 Signs You Are Afraid Of Commitment
If you are feeling stuck in a relationship, or if you're struggling to maintain your committed relationship, you may have issues with the commitment you didn't even know were there.
So, what is fear of commitment?
"Commitment issues" definition can be manifested in a number of ways and, interestingly enough, can look like you want to be in a committed relationship on the surface when the truth is you're sabotaging your prospects.
Usually, when we think of someone with commitment troubles, we think of someone who doesn't stick around long, flits from one relationship to the next, or sees several partners at once. We don't often realize that someone with a fear of marriage commitment may also be overly controlling or quick to go "all in."
It might seem healthy to say, "I'm scared of commitment", "I need time to think," but this is not the way to live. You might think you are right, but you must try to unbolt your feelings and be all into your relationship if and when you decide to be in one. Keep a check on your lack of commitment in a relationship and fear of commitment signs to know where you could be going wrong. Here are 10 signs you are being afraid of commitment and what you can do about how to not be afraid of commitment.
1. You don't let anyone get "too close."
This is one of the most well-known signals you are scared of commitment.
You may find yourself saying, "I'm just not ready to settle down."
These are stories you're telling yourself to stop yourself from getting attached! Keeping partners at a distance can make you feel temporarily safe from potential heartbreak and helps you to convince yourself you don't want a committed relationship.
*Tip: Change your storyline! The things you tell yourself are what you're going to believe and respond to. Instead of "I'm not ready to settle down," try, "I'm willing to explore the possibility of a committed relationship." Bridge statements like this one can open your mind to new possibilities and opportunities without pretending or lying to yourself.
2. You pick fights or find flaws often
Do you find yourself actively looking for what might be wrong with your partner or your relationship? What about picking fights about small things when everything is going well in your committed relationship?
No relationship is "perfect," and by looking for every tiny flaw, you will convince yourself that your relationship is broken.
*Tip: If you find yourself criticizing or picking fights, stop and ask yourself what is important to you about the issue. Ask yourself, "What is important about this?" to each new answer to uncover what's really going on for you
3. You're controlling or obsessive
When you're afraid to commit to a relationship, you may become controlling. Trying to control your partner or your committed relationship can feel like the only way to deal with your fear of commitment in relationships and avoid heartbreak.
But it's no surprise that becoming controlling or obsessive over your partner is likely to lead to heartbreak instead of avoiding it! We can't control other people.
*Tip: Relaxing your body and breathing has a direct impact on how you're feeling! If you notice yourself getting tense and controlling, try bringing your awareness to your breath or body. By identifying where the emotions show up in your body, you can then work on relaxing and releasing there.
4. You break promises or try to disappoint your partner
Does this sound like you? Do you sometimes break promises on purpose or do things to damage your committed relationship?
You may tell yourself things like, "They are going to find out I'm not that great anyway" or "Maybe this will cause them to leave me, so I don't have to leave them."
This self-sabotage is a key indicator you may be afraid of commitment!
*Tip: Fight the urge to break the next promise or tell that next lie. When you break a promise to someone else, you also break it to yourself.
These behaviors can become habits, but that means their patterns can be broken! Start small but stay consistent. If you say you're going to call, but feel an urge to ghost, set a timer and call for 5 minutes. Hold yourself accountable!
5. You stop living your own life to spend all your time together
It's true that in relationships, sometimes we trade time in one area of our life to invest in our committed relationship. If you find yourself going all in quickly every time you're in a new relationship, you may have a commitment issue.
*Tip: Healthy relationships have healthy boundaries. To break the cycle of commitment issues, try setting boundaries for yourself about how much time you're willing to invest. Giving up your life and activities can make you feel resentful of your partner. Stick to your boundaries!
6. You worry about your "freedom" a lot
Being in a committed relationship does not have to mean you give up your freedom. If you often find yourself worried about your freedom or telling yourself that you feel locked down, you might just be scared to commit.
*Tip: It's important to remember that you always have choices in how you show up to your relationship. You choose if you give up your passions and hobbies for your committed relationship, not your partner.
Your partner may ask you to do things, like spend more time together, but you choose whether or not you do. Exercise your power of choice and keep showing up for what's important outside of your relationship.
7. "I'm too busy."
If you're a person who likes staying true to passions and hobbies, you might find yourself saying this! Making time for someone else and giving up some of the things we know make us happy can be unattractive.
But, you can keep your life full of everything you love. You don't need to have relationship fear commitment just because you have a lot going on in your life.
*Tip: Coming back to your values, or what's important to you, can be a great way to prioritize your time in a meaningful way. If a relationship is essential to you, you can make time for that the same way you make time for yourself like the gym and happy hour.
8. You experience a lot of doubt or fear of rejection
You might not realize that these are indicators of 'Why do people have commitment issues?'. If you often doubt your partner, their attraction to you, or their loyalty, these are reflections of your inner fears and not necessarily your partner's behaviors!
Your fear of rejection is likely the culprit here. That fear can cause you to stay disconnected from your partner, constantly worrying about the state of your relationship, and unable to remain present.
*Tip: Practice rejection! This may sound crazy, but things typically scare us until we've experienced them and realize they aren't that bad.
9. You catastrophize the future and create self-fulfilling prophecies
Spending a lot of time going to future worst-case scenarios or making assumptions about things that haven't happened yet could indicate some underlying fear of commitment symptoms. "Our styles don't match. We can't possibly live together." "He plays too many video games; he'll never grow up."
When you decide these outcomes are the only possibilities, you believe them and start to act accordingly. This limits your ability to see anything other than what you've told yourself is true. This confirmation bias can feed your fear of commitment!
*Tip: When you find yourself playing fortune teller, practice asking yourself what other outcomes are possible, and explore those options.
10. You get back into relationships quickly, without too much discernment.
On the surface, wanting to get back into the game quickly after a break up might look like the opposite of having a commitment issue, but it could be an indicator that you have some fear of commitment.
By keeping your old patterns of falling quickly back into a relationship, you're potentially setting yourself up for continued failure. This lets you keep telling the story of how unlucky in love you are, ultimately making you evade something true and serious.
*Tip: Fight the urge to get back into a relationship! An urge is just a feeling and it doesn't do anything by itself. It's only when you act on an urge that the trouble comes in.
By sitting with the feeling, you can better understand where it's coming from, you can start to work on yourself before you try to be with someone else.
In the video below, Alan Robarge talks about self-directed healing process and how you can change old relationship patterns
So often, it happens that you push away the love, care and nurturing from someone ready to give it all to you. But, why are people afraid of commitment?
As humans, we are hard-wired to protect ourselves. However, you need to do self healing and work on yourself before plunging into a relationship. It is also important for the partner to not latch on, cling on and get desperate if you have reasons for commitment issues. They should hold on trust you through the process of internal healing.
If you're seriously struggling with commitment and find yourself really stuck, consider seeing a therapist or a relationship coach. They can help you identify what's really going on for you, and give you even more tips and tools to get out of your own way and find a great partner!
Share this article on
Want to have a happier, healthier marriage?
If you feel disconnected or frustrated about the state of your marriage but want to avoid separation and/or divorce, the marriage.com course meant for married couples is an excellent resource to help you overcome the most challenging aspects of being married.
More On This Topic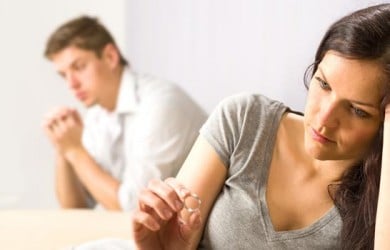 You May Also Like