18 Possible Reasons I Hate My Husband
Marriage brings two individuals in love together. Imagine how shocking it is to hear some wives say, "I hate my husband so much." What could be the reason for this statement, and what can you do?
Life is unpredictable, and marriage is full of surprises. We expect it to be a perfect partnership between two individuals in love who are ready to build a home. However, it doesn't always work like that.
Certain events can jerk us back to reality when you find out your soulmate is flawed and imperfect. They can force you to question your love and your marriage.
Love is what we expect in a marriage, so a dislike for our spouse makes us anxious and stressed. But hatred for one's spouse doesn't surface for no reason.
The issue isn't about hating your partner. No matter how much you love your spouse, there will be days when you hate their guts. But if this happens frequently, you must ask yourself, "Why do I feel like I hate my husband?"
This article will provide the answers you need. We will present possible reasons why some wives hate their husbands and solutions for the same.
Is it normal to hate your husband?
To begin with, when you hate your husband, it doesn't necessarily mean you have no feelings for them anymore. It's possible to dislike your husband and still love them simultaneously. Strange, right?
You might hate your husband when he does something you don't like. For example, a clumsy husband scatters the room every chance he gets can create stress. However, it's just for a short while.
Once the wife tables her grievances and apologizes, the couple goes right back to loving each other. The temporary hatred you feel often fades once your husband changes or you get what you want.
Besides, hating your husband is just like when you blurt out, "I hate this car!" when it refuses to start during a rush hour. In essence, you can hate something or someone you love from time to time when things don't go your way.
You should be more concerned when you frequently hate things about your husband. Constant dislike for your spouse shows an underlying problem you need to solve.
Recollect how happy you were on your wedding day? How come you suddenly dislike your husband or slowly hating my husband? Learn what to do when you don't like your husband in the following:
What to do when you don't like your husband
Knowing what to do when you hate your husband can save your marriage time. The best way to solve the dislike for your husband is to communicate. Effective and intentional communication can't be overemphasized.
Start by making your husband aware of your feelings before taking other steps. Check the following practical methods when you don't know what to do when you dislike the man you've married:
Related Reading: 

13 Tips on What to Do if You Dislike Your Spouse
1. Evaluate why you hate your husband
An excellent way to evaluate the situation is to start asking the questions like, "Why am I starting to hate my husband?"
Go right back to when you used to love your husband. What changed all of a sudden? This is not the right time to blame your husband, but to evaluate your actions in the past. This step requires you to be thoughtful and open-minded.
Could you be transferring aggression? Do you have any unresolved issues with yourself? Are you happy within yourself? Stay calm and think it through to evaluate your marriage and save it from crumbling.
2. Accept that he's imperfect
Why do I hate my husband? You probably hate him because he is flawed. But who among us isn't?
Understand that many of your expectations before marriage will crumble because living together often shows us their new traits.
However, don't dwell much on it. Accept that he can never be the charming prince you see on the television. If he's trying his best to make you happy, the least you can do is to appreciate him.
While you can encourage your partner to change some behaviors, it is better to accept that his flaws will always be part of him. Accepting that fact will save you from getting worried.
3. Engage in effective communication
It doesn't matter if you say, "I hate living with my husband." It won't change anything unless you let him know your feelings. It won't make him change, and guess what? It will complicate your marriage more.
Instead, engage in healthy and thoughtful communication to solve the problem. Start by doing the following:
Ensure you are calm.

Look for a quiet place for discussion.

Start by complimenting him or appreciating him.

Express your feelings without sugar-coating
The goal is to make your husband understand your feelings and save your marriage.
Related Reading: 

10 Effective Communication Skills in Relationships for Healthy Marriages
4. Try counseling
If you can't get past why you hate your husband so much, it may be time for you to seek the help of a marriage counselor. An experienced therapist will offer you strategic ways to communicate with your spouse. Also, they offer proven methods that will save your marriage.
18 likely reasons why you hate your husband
There are thousands of reasons your prince charming is no longer your best choice and you hate him. Marriage is full of ups and downs, and you might have forgotten each other as you navigate life.
Knowing the specific reasons can save your marriage, whether he stopped sending flowers or stopped going on regular dates. If you can't pinpoint the cause you dislike your husband, check the following possible reasons why you hate your husband:
1. You stopped communicating
Communication goes beyond what you engage in with friends and co-workers. With your spouse, you need to be more intentional. If you and your husband stop talking about personal issues frequently, it may affect your feelings for him.
Related Reading: 

3 Detrimental Effects of Lack of Communication in Marriage
2. You stopped doing things together
Doing things together offer couples opportunities to enjoy each others company and finding loving ways to complete tasks together.
If couple activities were a part of your marriage and you stopped doing them because of busy work schedules, it may be the reason you have started to dislike your husband.
New activities offer a change of environment, which in itself can make you feel closer to your partner. Giving these up takes away some of the excitement from your relationship.
3. They didn't reciprocate
Is it normal to hate your husband? Yes, it is if he refuses to reciprocate the love and gesture. Love is more enjoyable when the two partners are on the same page. Otherwise, it's bound to bring out hatred in one person.
4. Compromises are no more
One reason you dislike your husband may be that you both stopped compromising. Before, you considered each other's blemishes, and you weren't judgmental. However, things have changed now. You fight over the most trivial thing and give no room for mistakes.
Related Reading: 

Marriage Is Not About Your Happiness but Is About Compromise
5. You stopped dating each other
Marriage doesn't mean you stopped treating your partner like you used to when you were courting. You are now together, and you tend to lose the spark you had when dating. It would be best to intensify your effort to draw your partner closer in marriage.
Related Reading: 

The Importance of Date Night in a Marriage and Tips to Make It Happen
Learn how to date your spouse in marriage in this video clip:
6. No respect
Indeed, you are lovers, but that doesn't take away the place of respect. The best way to show you love your partner is through respect. How? You respect your partner by recognizing they are different from you through their opinions, experiences, and values.
It also means you acknowledge these differences and align with them. When spouses don't respect each other, they stop being responsible.
7. He's not responsible
It is possible that you hate your husband because he stopped being responsible. Many women want a reliable partner to effectively manage a home and a family. If your husband stopped behaving like the man in the house, that might explain why you hate him so much.
Related Reading: 

How Do I Make My Partner Realize Their Responsibilities?
8. He stopped taking care of himself
"Why do I feel like I hate my husband?" Maybe because he stopped making an effort to look great. Some women got attracted to their husbands because of their looks and physical attribute. If these things suddenly stop in marriage, you may hate your husband.
9. He stopped being your friend
You might dislike cohabiting with your husband because you don't see him as your friend. Typical lovers aren't just intimate with each other; they are also best friends.
They talk about things, go out often, advise and help each other. If your husband treats you formally and forgets to enjoy your union, you may start hating him.
10. You are too different
You may have your husband because there are underlying differences you refused to settle.
Everyone has a unique personality encompassing behavior, core values, cultural beliefs, and morals. These differences tend to clash when you don't compromise and make individuals incompatible.
For instance, your partners appreciate kids, but you don't. This situation can make you hate your husband and wish you aren't together.
11. Your partner only cares about himself
You might hate your husband because he prioritizes only himself. You won't see such a trait when you are courting because he is a good pretender. If your husband doesn't care about your opinion or values but only what matters to him, it will cause a rift between you.
12. You are unhappy
When you hate your husband so much, the reason could be because you are unhappy with yourself. Are you stressed, frustrated, overwhelmed, or confused? Sometimes it is best to evaluate yourself before blaming your husband for how you feel about him.
13. He stopped paying attention to you
Many wives say, "Sometimes I hate my husband." The reason is that their husband stopped paying attention to them. No matter how busy life is, spouses should dedicate time to each other.
Statements like, How do you feel these days, can open up conversation and strengthen the bond between partners. However, only attentive partners will care to ask what their partners think.
Related Reading: 

What Happens When There Is Lack of Attention in Relationship?
14. You have a different idea about marriage
"Why do I feel like I hate my husband?" The harsh truth is that you have a vague and unrealistic idea of marriage. The famous statement that marriage isn't a bed of roses comes true here.
You probably thought everything would be rosy forever, but that's not true. As much as love brings you together, know that you will face some challenges, such as financial constraints, housing problems, issues about children, etc.
Now that you are married, you find it challenging to deal with these issues. Well, you need to embrace both the good and the bad. Even life is full of ups and downs.
15. You have a dysfunctional view of marriage
You might hate your husband because of the wrong ideas from dysfunctional relationship beliefs that you have unconsciously absorbed from your environment.
From time immemorial, we hear more awful marriage experiences than good ones. If you listen to more of these unpleasant experiences or witness them, it may affect your perception of a healthy marriage.
As a result, you begin to project your fears on your husband and marriage. Learning what to do when you hate your spouse involves limiting your exposure to crashed and failed marriages.
16. He hurts you so much that you can't let go
You might say, "I hate my husband," because he has hurt you a lot in the past. We offend each other, but you will find it challenging to forgive someone who does it repeatedly and unapologetically. That contributes to your extreme hatred for your husband.
Related Reading: 

7 Ways to Feel Better When Someone Hurts You
17. He doesn't want to change
Some wives say I hate living with my husband because he refuses to change some of his unpleasant habits.
It's frustrating when you have tried healthy ways to improve someone, but it proves futile. For instance, you may hate your husband solely because he refuses to stop drinking.
18. You are getting attracted to other people
When you hate your husband so much, could there be another person? Being married doesn't mean you won't find others attractive. However, you should check yourself when you start drifting away from your partner.
5 helpful ways to stop hating your husband
No marriage is perfect as everyone is only trying their best to make it work. Now that you know why you hate your husband, it is best to know ways to stop it. Check the following ways to stop hating your husband:
1. Access the root problem
The first step to stopping hating your husband is to know why. Once you figure the problem out, it will be easy.
2. Forgive and let go
Most wives hate their husbands because they hurt or offend them. One way to stop hating is to forgive them so that you can heal.
Related Reading: 

The Significance and Importance of Forgiveness in a Marriage
3. Reevaluate your expectations
Sometimes, we place immense expectations and responsibilities on our partners.
We think they have failed and hate them when they don't meet our unrealistic expectations. Well, you need to stop that. As long as your partner tries their best, it would be best not harshly to criticize them.
4. Take responsibility
It's easy to shift blame to others. However, you will stop hating your husband when you acknowledge your role in the situation.
Taking responsibility can help resolve some of the tension between you and your partner. It can pave the way for a better relationship.
5. Reminisce on the great moments you have
Another way to stop hating your spouse is to remember the good old days. Appreciate those gestures by reminding them. You can even lead by replicating some of those times. For instance, you can initiate revisiting where you first met each other or go on a vacation to a new place.
Key takeaway
Marriage is an exciting experience for most people. Like other things in life, it has its problems. One such situation might make you say, "I hate my husband." The first step to solving this problem is knowing why you can't see eye-to-eye with your spouse.
Thankfully, this article has done a great job highlighting common reasons wives hate their husbands and what they can do. You can also take the advice of many marriage counselors and therapists if you need more enlightenment.
Share this article on
Want to have a happier, healthier marriage?
If you feel disconnected or frustrated about the state of your marriage but want to avoid separation and/or divorce, the marriage.com course meant for married couples is an excellent resource to help you overcome the most challenging aspects of being married.
More On This Topic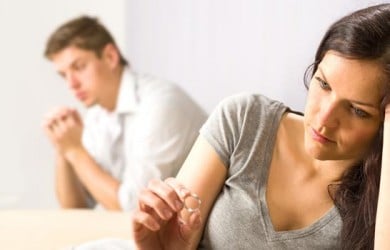 You May Also Like