How to Make Renewing Your Vows as Special as the Wedding
There comes a time in every marriage when some romance is in absolute order.
You might want to renew your vows every year – or do so every ten years. Regardless of the time that has elapsed since you first said "I do" to each other, a vow renewal can be the perfect opportunity to get your friends and family together and relive that special day again. However, there is no definite answer to the question of when to renew vows.
If you are considering renewing your vows, but are not yet quite sure about the details, read our guide on making your vow renewal just as special as your wedding day.
Also Watch:

Who should host the ceremony?
As vow renewals are much less "structured" than weddings, you can tailor them to your own preferences as much as you'd like.
When renewing your vows, your hosts can be your children if they are old enough and would like to take on the challenge; your parents, if you have recently gotten married and they would like to add their voice to celebrating your relationship; your best man and maid of honor, if they have had a blast the first time around; or any other friend or family member you would like to include in your special day.
Who should you invite?
Some couples choose to host an intimate renewal ceremony, especially if they've had a huge wedding.
This gives them the time and space to focus on each other and their closest guests, as opposed to mingling with everyone.
On the other hand, those who've had small weddings like to take it up a notch and host a larger soirée for their renewal, especially if they couldn't afford the big wedding they wanted at the time. You can extend wedding vow renewal invitations as per your discretion.
The choice is entirely up to you: consider the costs, and tailor your guest list accordingly.
Recommended – Online Pre Marriage Course

Where should you host it?
A place of worship, a beach, a restaurant – you can choose any location for renewing your vows you'd like (that fits into your budget, of course).
You can choose to echo the atmosphere of your wedding and hold it in the same or a similar location, keeping to the original theme.
On the other hand, you can now craft the wedding you never had and incorporate all those elements you dismissed the first time around.
Make sure that the theme you go for and the location you choose speak of who you have become as a couple. After all, the day is all about celebrating your relationship, and the location and mood should reflect that.
If the weather permits it, you can take your wedding outside, and enjoy a day in the sun with your guests and each other.
Make sure you also incorporate a photographer into your special day – while this is not the actual wedding, you still want to have plenty of photos to frame.
What should you wear?
The simplest answer would be your original wedding dress and suit.
If they don't quite fit, you can find a way to work them into a new outfit. Stick to the original tie with a new suit, use some of the original materials to create a new dress, etc.
Of course, you can go for a completely new ensemble, but make sure you do dress up for the special occasion of renewing your vows.
It doesn't have to be as formal as the first time, but make sure you wear the outfit for the first time on the day, as opposed to reaching for a dress you've already worn to a different occasion.
Should you write your own vows?
While weddings can come with pre-scripted vows, renewal ceremonies don't, and this is your chance to put to paper some of your feelings.
While it can be very difficult to write your own vows, remember that they don't need to be formal and serious when it comes to renewing your vows.
They can be lighthearted and even silly, just as long as they tell your partner and the world how happy you are to be with them on this day.
Think about all the things that make your marriage special, and write about them – something as simple as thanking your partner for making the best cup of hot chocolate on Christmas morning can be a very intimate and personal touch.
Should you get new rings?
The ceremony for renewing your vows itself will require you to exchange rings again.
These can be your original bands, perhaps with an added engraving to mark your renewal ceremony, or you can add a new band to your original stack if you want to.
The choice of vow renewal rings is entirely up to you.
Who officiates at the ceremony?
Since a vow renewal is not legally binding, anyone can officiate during the ceremony.
You can choose your minister or priest; it can be your rabbi or someone from the local registry office, but it can also be a friend or a family member who has made an impact on your marriage and whom you would like to include in the ceremony of renewing your vows.
Since you can write your own script, you can take this time to personalize the experience as much as you'd like, and make it entirely your own.
That also answers the question, how to renew vows.
A wedding vow renewal can be an excellent way to share your love with friends and family, gather everyone you love, and simply have a wonderful day together.
The details of the ceremony are entirely up to you, and you can make it as formal or relaxed as you'd like it to.
Remember to make it personal and specific to your relationship, and most importantly: enjoy the day and the love you have for each other.
Share this article on
Want to have a happier, healthier marriage?
If you feel disconnected or frustrated about the state of your marriage but want to avoid separation and/or divorce, the marriage.com course meant for married couples is an excellent resource to help you overcome the most challenging aspects of being married.
More On This Topic
You May Also Like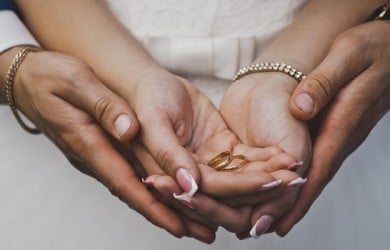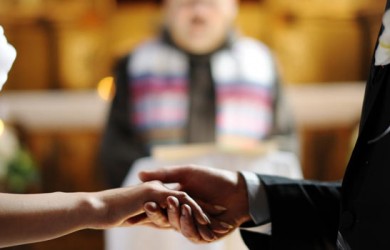 Popular Topics On Getting Married